common core
Posted by karen on September 11, 2012 in Uncategorized

Paul Allison through the NYC Writing Project's Youth Voices project has structured a learning game around a series of challenges for ELA, history/social studies, arts and media, and science. These challenges are tied to Common Core standards and competencies including Citing Evidence in Conversations, Independent Reading, Text-Dependent Research, Formulating Arguments in Areas of Interest, and Self-Directed Learning.
Here is the main site for this project.
This project includes a series of 15 challenges within each of the 4 subject areas listed above and are associated with 60 badges on P2PU. These challenges are designed for middle school and high school students and can be used as a full curriculum or in a variety of other ways that might fit your own learning goals. As with all open resources, these materials are intended to be adapted and remixed for your own use as well.
More information about the YouthVoices project is available on the site, as well as through this webinar.

Kudos to Paul, his students, and everyone else involved on this innovative new vision for a learner-directed curriculum.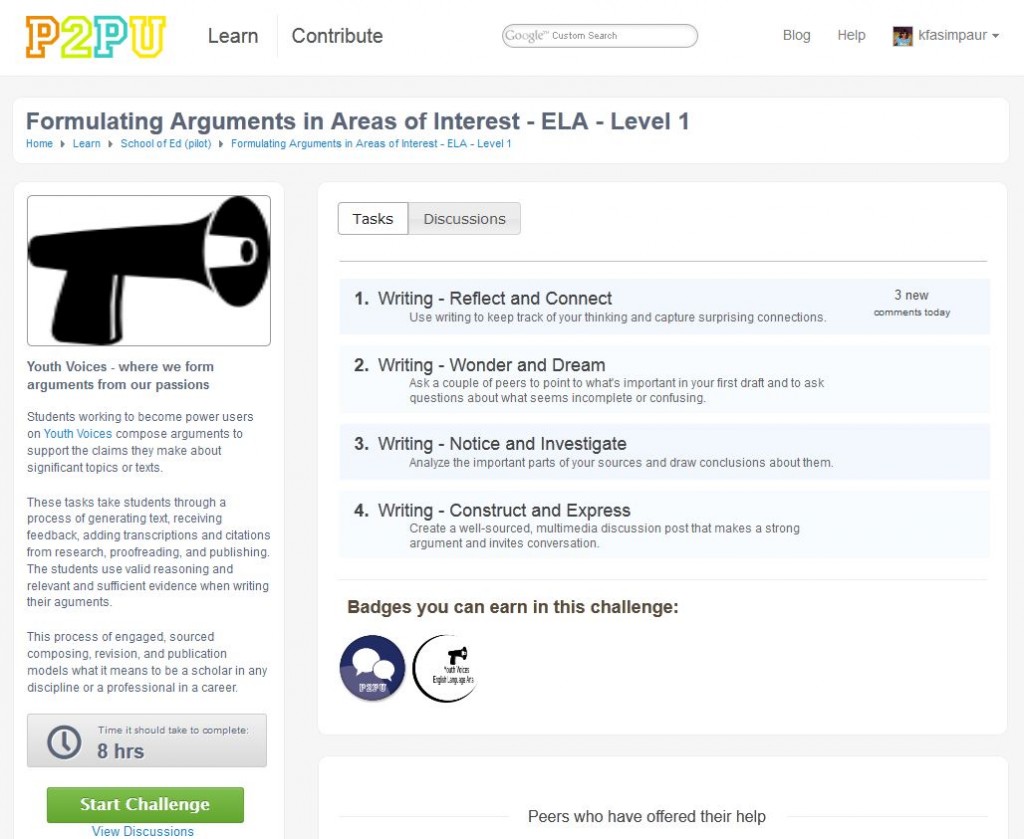 Posted by karen on October 6, 2011 in Uncategorized
So I've got the Moodle 2 site set up for the math textbook remix project I'm doing as a part of two P2PU courses.
I took a look at the Common Core standards for math as they related to fractions. (I decided to focus for now on one module: fractions, rather than the whole year's curriculum in the textbook.) A lot of this content is more 5th grade than 6th, but I'm not really labeling it by grade anyway. I think that doing so limits a resource's ability to be best used for differentiation.
Working title:

This course is open for guest access. If anyone wants to play along with discussing or building this, drop me a note and I'll add you as a user.
One thing I'm struggling with is the desire to focus this as a remix project (using mostly already-available open resources) vs. a more optimal design process (starting with learning objectives, looking at what would be acceptable evidence for mastery, and only then looking at what activities might be appropriate).
Posted by karen on May 13, 2011 in Uncategorized
It is an interesting time in education. There is near unanimity that the current focus of learning in K-12, with instruction largely being driven by assessments that do not reflect meaningful learning goals, is not productive. We are teaching to ridiculous bubble tests and failing our students in doing so.
Many ed reform movements have come out of this environment, and unfortunately most of them seem rooted in negative sentiments. Blame the teachers. Blame the administration. Blame the parents. The list goes on.
One reform movement that is based on a positive premise is deeper learning.
At its root, I see deeper learning as a reaction against the current emphasis on a volume of factual content taught largely through memorization and rote processes. The current approach results in students who can perhaps recite some facts for a short period of time and might be able to solve problems through practiced algorithms applied to contrived problems, but who do not have a real understanding of the content and cannot readily apply it to real life situations.
Deeper learning seeks to rectify this through a focus on critical thinking, problem solving, collaboration, communication, and self-directed learning.
The question is where content fits into this picture of deeper learning. The Hewlett Foundation includes in their description of deeper learning that students should be prepared to "master core academic content."
Should core content mastery be a component of deeper learning? I would argue that it should not.
While some content knowledge is certainly an essential component of anyone's idea of an educated person, the amount of detailed content included in most standards (yes, even the Common Core) is absurd. Is it essential for students to know how to derive the equation of a parabola given a focus and directrix or to know what Lincoln's Second Inaugural Address says? Maybe or maybe not.
What is essential is that students know how to find, evaluate, and use information effectively. It is also critical that they find joy in learning, have success in their learning, and become self-directed learners. And that should be the focus of deeper learning.
Be clear that I am not arguing that content standards have no place in education – instead I am making the suggestion that mastery of core academic content not be included in the definition of deeper learning.
The reasons for this are many:
The debate over core content (how much, which, etc.) is not germane to advocating for deeper learning. In fact, it may be in opposition to it.
Deeper learning at its heart should oppose a content-mastery-focused approach.
Every child may not find it feasible to master all academic content, but all children can successfully engage in deeper learning.
Teachers can only do so much in the day. To include everything that can be imagined is not fair. Starting with something that most schools have been unable to achieve to date and then adding other allegedly "more important" things seems like a mixed message.
My suggestion is that content standards (or at least mastery of some unknown sum of content) be left out of the discussion of deeper learning. There are plenty of other folks worrying about that anyway.
Posted by karen on December 7, 2010 in Uncategorized
A variety of people are working on tagging content for the new Common Core standards, and I have been asked by several if there were any suggested tags in place for this (a controlled vocabulary).
Having looked and asked around and not found any, we put together this list of Common Core tags.
Please note that this is not "official," but is what we are using to tag content absent anyone else putting something out there. (We'd love to see NGA put some tags on their own web site to ensure greater consistency and to facilitate searches across materials.)
If you see any inconsistencies in any of these tags (the original standards themselves have some oddities in them, especially in ELA), please let me know.
I'm also curious to see what the states do with these as they begin adopting and adding their own additional standards. My hope is that they use a consistent numbering scheme, again so that some synergies can be gained.
Posted by karen on November 10, 2010 in Uncategorized
With several different groups (districts, states, publishers, etc.) working on tagging content assets — especially open ones — for the new Common Core standards, a group of us thought it might be useful to have a standard (no pun intended) tagging schema.
I don't know much about what makes a "good tag," but not being one to let ignorance stand in my way, I'd like to throw out a tag format to get input.
Here's a first thought on this: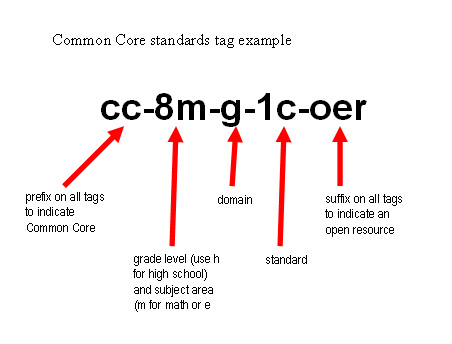 One question I have is with regard to the suffix. My thought was that it would be nice to be able to search a repository and find all the content for standard G-1c that is open. However, another alternative would be to omit the -oer suffix or have a separate oer tag and then search on the combination. I guess you could also tag both with and without the tag (e.g.  both cc-8m-g-1c-oer and cc-8m-g-1c).
What other ideas, thoughts, comments, etc. do you all have?
[Thanks to Doug Sovde at Achieve for helping think this through.]