Posted by karen on November 1, 2013 in Uncategorized
This is going to a long, somewhat circuitous post, but if you hang in to the end, it will wind around to open education.
A thought occurred to me yesterday: If kids who did well on tests like me would have had a vocational ed track option in school when I grew up, I could have saved a lot of people a considerable amount of time, money, and aggravation.
What do I mean by that? Well, when I went to school, I was a "high achiever." (I wasn't particularly smart, but I did very well on tests.) That marked me for a certain college and career track, which I dutifully followed for the next 40 years or so, pursuing the American dream of success.
Growing up, I always enjoyed woodworking and other manual arts type projects with my dad. I also took a few shop classes that I really liked. But never did I consider that kind of work as anything but a hobby. In the worldview that I'd been brought around to accepting, successful people run companies; they don't work as carpenters or farmers.
I went along with that line of thinking for many years, climbing the proverbial corporate ladder, until one day I decided it really wasn't what I wanted to keep doing. Now I spend a fair amount of my time doing construction, growing food, and pursuing other activities that fall outside of white collar work. A very good day for me now is one during which I spend little time at my desk. (I do still have a desk, and I do still do "office work." It's somewhat of a financial necessity, though I'm still working on that puzzle.)
I love my now very changed life, but I can't help wondering how life might be different if I'd seriously considered these options at a younger age.
I have a friend whose very intelligent and successful young son recently left college to WWOOF on an organic farm. I have another friend who is doing work overseas on rural land reform issues. Others I know are deeply engaged in social justice work in the field.
Setting out on these courses as a young person opens up a world of possible lives that don't involve working at a desk in corporate America. Ruling these types of choices out leads to different choices.
What does this have to do with "open"?
Well, in my expanded view of what "open" means, I think it has a lot to do with personal agency and choice. It has to do with less "compulsory" or even strong pushes in one direction or another.
Who are we to indoctrinate kids with what success means? Maybe we should focus more on what my friend monika calls "that thing that we can't not do."
Posted by karen on October 24, 2013 in Uncategorized
I love open online communities. I mean, I really love them. More and more, I find value in the conversations and sharing in these communities, much more so than in other content resources. This is the way learning should be.
Mostly, these communities for me exist in places like Twitter and G+.
In spaces where there isn't strong community or that the community is only episodic (for example, with P2PU courses or some MOOCs), I really miss it.
So when I started thinking about some new plans to increase awareness of OER and open learning, starting an online community of practice was a natural. There are a lot of reasons this makes good sense. It's a deeper means of engagement than conference presentations or other tradition awareness building activities. It is more authentic and has an opportunity to address some real challenges educators face. It has the possibility to be self-sustaining.
But then I thought "Does the world need one more online community?"
Yes and no, I think. Yes, because there is no better way to learn and grow than through community, and many folks aren't on Twitter and G+. In fact, one of my concerns about these spaces is that many conversations are dominated by "the choir." If you want to reach new, mainstream, and especially not as connected audiences, this is a tough way to do it.
No, because, well, there are a lot of community spaces already out there, all fighting for attention.
Thoughts?
Posted by karen on October 16, 2013 in Uncategorized
I just had a piece published by Info Week about open educational resources, advocating for the position that all publicly funded educational resources should be openly licensed.
After it was published, someone wrote to ask me about how I would respond "to someone who would object to the idea that OERs and online distribution of curricular materials alone will provide a comparable education at little to no cost.  What about the cost associated with providing instructors?"
Good question and one that is often raised. Below is my answer.
"For a long while, I too worried about the issue of quality instructors and how that influenced content delivery and learning. More recently, though, I have shifted my own thinking on learning and have come to appreciate the richness of a more constructivist and peer learning driven model. It isn't all about the expert instructor transmitting knowledge to learners.
Also, from a more pragmatic standpoint, I've seen learners thrive in situations where there isn't necessarily an instructor leading the process. With regards to learning, I don't think there is any one model that works for everyone. In my opinion, OER is one solution that can provide great value to a great many though."
Now, don't get me wrong — in K-12 education, I feel strongly that the number one predictor of learning success is the teacher. I would never argue that a teacher isn't essential to the learning process in schools. But, having said that, I don't believe that learning necessarily has to happen in schools or with a teacher. More and more learning happens in informal spaces. We should support as many avenues for as many types of learning as possible.
And, bottom line, open licensing publicly-funded resources facilitates that. This kind of policy provides whole new avenues for informal learning In formal spaces, it also could free up additional dollars to better compensate hard working teachers.
What do you think?
Posted by karen on October 9, 2013 in clmooc
If you or someone you know missed #clmooc and are looking for a short, fun maker mini-course, consider Make/Hack/Play Together.
I'll be facilitating this 3-week mini-course that starts on Nov. 4. It's free, you can earn a HP Catalyst Academy badge for participating, and it should be a lot of fun! Sign up here.
Posted by karen on September 19, 2013 in clmooc
In doing some thinking about planning and setting up connectivist MOOCs, the first question that often comes up is "What platform should we use?"
To answer that question, like many other design questions, one should first think about the goals of the task at hand, in this case, the goals of your MOOC.
For #clmooc and other connectivist MOOCs, our goals were centered around connected learning and creating a learner-centered, participatory environment. We also had a stated goal of being open in the broadest sense possible. Clearly articulating those values was critical to choosing a platform.
For #clmooc, we chose to go with multiple platforms. Our main two platforms were WordPress and G+. We also used and supported Twitter and a blog hub. Finally, we built in flexibility to use different platforms as we went and to let the community determine which platforms would be primary.
Overwhelmingly, our participants selected G+ as their platform of choice for this MOOC.
Here is a short summary of how we used each platform and the pros and cons of each .
Platform
Use in #clmooc
Pros
Cons
WordPress

Central participant registration
Site for facilitator blog posts and announcements
Site for about page, FAQs, help guides, calendar, links to other platforms
Way we sent email newsletters (Wysija)

One central location
Easy for multiple developer/facilitators to manage
Highly customizable
Strong support community
Control of license (open CC BY in our case)

Not very interactive
Email open rate was low (as is typical)

G+

Main location for participant posting and group interaction
High use
Very interactive and social
Very easy to use
Nearly everyone has a Google acct. so barriers to participate were low
Open in the sense of publicly viewable

Proprietary platform; not open licensed
Subject to Google's whims
Hard to find old posts
Not easy to track analytics
No tie to other platforms

Blog hub

Place where we aggregated participants' blogs if they submitted them
Allows much longer format reflections
Participant-driven and owned
Not everyone has a blog; not easy to set up
Requires bigger time commitment by participants
Lower use

Twitter

Weekly Twitter chats
Sporadic #clmooc discussions
Immediate
Very interactive and social
Open in the sense of publicly viewable

Small % of people are on Twitter
Proprietary platform; not open licensed
Subject to Twitter's whims (less of a concern because it's well established)
The tools #clmooc used were obviously all publicly available tools. Other platform choices that some might entertain (and why we didn't) include:
Closed proprietary platforms like Blackboard, Coursesites, etc. – We felt that an open, participatory platform was integral to our mission and goals.
Custom-developed platforms – We didn't have the budget or support resources for this.
Newer MOOC specific platforms like Google's Coursebuilder, OpenMOOC, or edX – We didn't have the time, staff, or expertise to learn and troubleshoot a new platform.
The bottom line is that what platform you choose really matters. In hindsight, I think the choice to go with multiple platforms was the right one for #clmooc, and we were happy with the platforms we chose. They weren't without problems (such as the virtual impossibility of gathering and correlating analytics across platforms), but they served our goals. And most importantly, they served our participants.
Posted by karen on September 9, 2013 in clmooc
(cross-posted from Mobile Musings)
Inspired by the #maker movement, #clmooc, and others, I put together a local kids' maker day this weekend.
This was a part of our local Heritage Days event, for which I've been helping coordinate a kids' activity day for a few years.
The day was a great success. We had over twice the attendance we've had in past years (and this is in an extremely rural area), and the kids had a great time, as did Brad and I.
In part, I'd attribute the success to an open approach of letting kids decide what approach they wanted to take for each maker project (or even to decide to do other projects), being flexible about the schedule, allowing kids to work on things of their choice, and emphasizing self-directed learning and fun over everything else.
---
Lessons learned:
Making is great! It's educational and fun, and something a lot of kids don't get to do enough of. (In the past, we'd done more presentations. None of those this year, and no one missed them.)
Our general approach of loose, open, flexible, and let the kids guide things was perfect!
Mixed ages work great. We asked for kids older than 4 (but had a couple younger) and set no upper age limit. We had kids from 2-19, and it worked great.
We were happy to partner with an existing event. This was good for our event and the partner event and worked well for parents too.
Market, market, market. You have to get the word out to attract people. Having done this for a few consecutive years helped too.
Planned activity list:
Welcome and Introductions
Make your name tag
Make photos * Bring your own camera or use one of ours! (See notes on the photo challenge from last year here; this was the only activity from a previous year that we repeated. We were glad we did because one kid said "I begged to come just so I could do this!")
BREAK
Make a mask
Yoga for kids
LUNCH ON SITE
Cardboard turtle races
Make a snack (smoothies)
BREAK
Make a puppet
Make jewelry
Wrap-Up
Supply list:
(Note: I don't think I spent $25 on this outside of stuff I already had.)
paper plates
paper bags
cardboard
paper
egg cartons
cardboard tubes
tongue depressors/popsicle sticks
toothpicks
lots of crayons, markers, colored pencils, pencils
scissors
glue
glitter
stretchy cord
beads
buttons
old socks
scraps of old fabric
blenders
smoothie makings (frozen and fresh fruit, yogurt, milk, juice, water, wheat germ, flax)
spoons
cups
library books for inspiration
Anecdotes:
Models – At the beginning, we showed kids all the supplies we had and told them what we'd be doing. We also put out a bunch of books with ideas of what kinds of things (masks, puppets, jewelry) they might make. We didn't supply any step-by-step instructions. From there, kids took it and ran. They came up with things we'd never have thought of.
Photo challenge – Kids just loved this. This year we also let them write their own challenges and share them, which was fun.
Nothing we planned – One kid made a diorama of an Indian village. This was nothing we'd planned, mentioned, or even contemplated someone making.
Peer mentoring – With kids of all ages, peer mentoring was natural,and we gave no instructions or guidance on this. There was one college-aged youth who came ostensibly to oversee her younger siblings. She started the day reading in the corner. By the end of the day, she was teaching all of us how to make sock puppets and jewelry.
Design – This is a sketch of a marionette puppet plan. Design thinking was happening even though we didn't prompt it.

All photos in this post copyrighted "All rights reserved."
Posted by karen on September 1, 2013 in Uncategorized
The K12 Online conference for 2013 has a great lineup of presenters, and it all starts on Oct. 14.
I'm especially excited about the Open Learning strand, which I'm helping to coordinate. Check out the line up here.
This is a great opportunity for high quality, free, open PD. Make your plans to participate!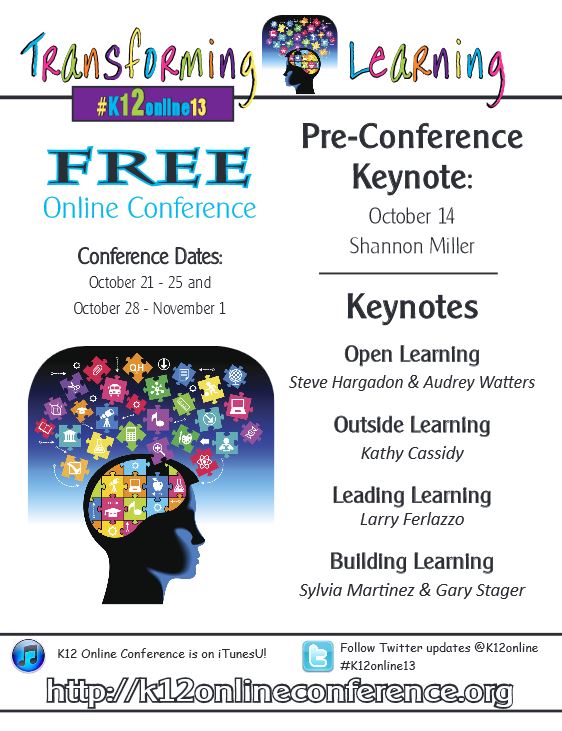 Posted by karen on July 30, 2013 in clmooc, Uncategorized
I have heard a lot of poo-pooing of MOOCs. A lot of "we-are-not-going-to-get-on-this-bandwagon" talk. A lot of "we don't want no stinking MOOCs."
I can only assume that what people are reacting to is the new breed of xMOOCs from the Courseras and Udacities (that's funny, huh?) of the world. These are MOOCs that strive to serve hundreds of thousands of learners; that have weak facilitation, little peer interaction, and not much collaboration; that focus on analytics and big data and have business models that are troubling; that are often neither open, nor transparent.
But this isn't what MOOCs are about to me. To me, they should be open, transparent, connected, and collaborative. That was the vision of the original idea of MOOCs, the cMOOCs as they are now called.
So when will we reclaim the MOOC name for this kind of collaboration that we value? Let's not let the corporate MOOC armies take this term and co-opt it.
Posted by karen on July 27, 2013 in clmooc, Uncategorized
In this ongoing series on hindsights regarding #clmooc, I think that one of the most important elements of our success was the team.
I believe strongly that active facilitation is critical to cMOOC success. Those that have weak or nearly non-existent facilitation do not often thrive. This is, of course, a challenge of time, commitment, and sometimes budget, but it is essential. In this regard, #clmooc soared.
The team for #clmooc was in a word, amazing. There were many ways in which this team was assembled and then worked together that contributed to our success.
There were seven of us. That may seem like a lot, but I know that we couldn't have done all the work we did with a smaller team. It was the right number for this project. Not so many that we couldn't really get to know each other and meet together frequently, but enough that we could plow through a huge amount of work.
Each week, two people had primary responsibility for that week's activities. One was the lead, and one was the helper. But everyone contributed every week in amazing ways.
We had a streamlined system of consistent activities that we developed together. We started each make cycle with a blog post and newsletter. Each week we had a "Make with Me" hangout and a Twitter chat. We participated in Connected Learning TV webinars and #literacies chats. We ended each make cycle with reflections, sharing, and Find Five Friday.
We planned and planned and planned. We met via Google hangout online every week for many hours before #clmooc began. We produced what seemed like hundreds of Google docs. We talked and talked and talked. And #clmooc was better for it.
Our team made everyone in #clmooc feel welcome and feel that however and whenever they participated was ok. If someone joined in Cycle 6 and was just starting with their introduction, we made sure they knew that was just great. Several participants said that this stance really helped encourage their participation.
Our team worked hard and was always present. As Terry said, it was a rare hour in the day when one of us wasn't online in the community doing something. We spanned various time zones and had different times when we were able to jump in. And we posted and talked, tweeted and hung out, encouraged and reflected, 24/7.
We had shared values and a commitment to excellence.
And then there were the individuals themselves.
Elyse Eidman-Aadahl, Paul Oh, and Christina Cantrill brought bold and bright leadership. They had a vision, but also asked the team to bring our own vision to the project and to build out whatever new tools and ideas we had. Most importantly, they empowered us to be our very best as a team. We were given not only chances to use our voice at every turn, but also admin rights and lots of support, which was a huge part of #clmooc being what it was.
Joe Dillon reminded us at every turn that however participants took part was good and acted as a voice of encouragement. I will forever hear his strong, comforting voice saying "Karen, you are ok, and however you participate is ok." He consistently reminded us that there were all kinds of people in the MOOC and that we should keep them all in mind as we proceeded. #clmooc was a better place for his leadership.
Chad Sansing took us to unexpected and often higher levels in our thinking about learning and was an ever-present hologram in our many spaces. He always encouraged us to hack, to make the web, and to think of our students in new and more meaningful ways. (And personally, I want to thank Chad for Walk Out, Walk On. It is changing me.)
Anna Smith joined us from a different locale each week and asked questions at every turn that took us to new points of departure. She brought clarity to us through these questions. Anna also prompted our noticing and sharing with Find Five Friday (#f5f).
Kevin Hodgson – ah, what a force of nature he is! Kevin made movies, made music, wrote posts, made makes, and much more. His words, pictures, thoughts, and feelings inspired and delighted. I will be continuing to catch up on Kevin's prolific output for months to come. I feel lucky to have Kevin as a friend.
Stephanie West-Puckett helped us to understand and bring the Connected Learning principles and ethics into everything we did. She also brought the playful lightness of toys and children into #clmooc. I always felt that Stephanie was there to help boost me up when I fell short and for that I am grateful. There is nothing like feeling you have someone strong there for you when you need her.
Terry Elliot brought so many things to #clmooc that I am hard pressed to hone in on what to say about him. Always able to produce a perfectly delightful and simultaneously intellectually stimulating comment at just the right time, Terry was a special friend to me during this summer. He helped me to be more comfortable with my rough edges and he encouraged me to make my voice heard, especially when I felt unsure and not up to the level of the rest of the group. And of course, there are the roosters. :)
Jordan Lusink kept us organized and smiling! She performed many, many behind the scenes tasks that supported us, and #clmooc couldn't have been without her and her team.
And of course, there was the community. There are too many to name, but so many of you took on leadership roles. That, to me, is the true proof that we achieved a vibrant peer learning community where we were all facilitators, all teachers and learners. For me, that was one of the biggest successes of #clmooc.
Thank you all for a truly great summer of making and Connected Learning. I appreciate each of you deeply.
Posted by karen on July 16, 2013 in clmooc
I've been thinking a lot about community and sharing – online and f2f — what makes it work well for me and what the challenges can be.
This was brought to the forefront yesterday when I wrote something as a part of a f2f group. When asked to share (optionally), I declined, as I often do, but later, I posted this same piece online in an open space, perhaps for the whole world to see. Why the difference?
There are many reasons. First, in online spaces, no one has to read or view my work. It someone wants to look at it, they may, but no one is compelled, and in fact, it takes a special effort to do so. In f2f settings, there is a captive audience, one that I am uncomfortable with (increasingly more so lately).
In f2f environments, I rarely choose to be at the center or to read aloud. I wouldn't say that I'm shy exactly (those who saw me once get up to speak impromptu for 45 minutes to a large crowd at ISTE can debunk that), but I don't choose to put myself out there often. When I do, it is because I have been assigned that role.
In online spaces, I am just one of many, many voices and rarely at the center. While in online spaces, there seems to be less often a "center," there are frequently one or two dominant voices in f2f spaces. The teacher, the presenter, the leader.
Of course, on my own blogs, I am the primary speaker, but this seems very different. For me, my blogs are a place for me to write, to think, to work through things. They are not primarily written for any audience (the possible exception being my personal blog, which is also the one about which I cringe most when I think about people I don't know reading it, as some do, perhaps because it is also the most interesting blog I write). Because my blogs are for me, not for an audience, I don't really care who reads them.
Reading or sharing something , though, screams out "I want you to hear this," and really, I don't. Not that I actively don't want an audience to hear it, it's just not my intent.
Thinking about this makes me reflect on the benefits of sharing. I mostly write for myself, and don't think that I greatly benefit from sharing. However, it depends on the medium and the community. In f2f settings, the benefits of sharing seem close to zero to me. In social media, sharing is everything – that's why I'm on social media – and I live for the responses and feedback.
Frankly, my eagerness to share also has to do with the particulars of the community. The more comfortable and bonded I am with the community, the more likely I will be to share. In nearly all the online communities I am a part of (e.g. my mini-constellation of Twitter, P2PU, NWP), I feel close and invested as a member of the group. That is much less often the case for me in a f2f group. There are probably many reasons, which include the length of time we are together, the degree to which I feel connected, and the communication medium itself.
#clmooc has exemplified the kind of community that I love to be a part of and to share with. On more than one occasion in the past few weeks, I've thought, "Oh, I can't wait to share that with #clmooc." I feel close to many people in #clmooc, some of whom I've known for years, others who I've just met. A community is more, though, that just the sum of its member people. A community is its values, its culture, its ethos. To me, #clmooc is about sharing, connecting, supporting, and being supported – more so than perhaps any community I've been a part of.
One thing #clmooc has made me more comfortable with is sharing my "rough edges." I have shared thoughts that are half-baked; I have gone on hangouts when I feel unattractive and ill-prepared to say anything; I have tried things that I have been pretty sure wouldn't work. It is unlike me to show these rough edges, but I have benefited as a result. Thank you #clmooc for that.