Posted by karen on March 6, 2014 in Uncategorized
Some time back, YouTube made open licensing an option for videos there. (Vimeo has had this option available for some time. However, with YouTube's great tools for close captioning, they are now a step ahead in my mind.) This is how you do it:
Go to your video, and go into the Info and settings.

Scroll down to License and rights ownership. Select Creative Commons attribution.*
Save changes.
That's all there is to it.You can also change your default YouTube settings to use this license by going to Channel settings -> Defaults -> License.
Sharing your videos under a Creative Commons license is a great way to let others reuse, remix, and republish them freely.
---
* Right now, YouTube only has an option for the CC BY license. If you want to use another Creative Commons license, you might consider noting that in your video description.
Posted by karen on March 5, 2014 in Uncategorized

Open Education Week is next week, and there are lots of great events and projects on tap.
For myself, we're highlighting the Kids Open Dictionary and the soon-to-be-unveiled K-12 OER Community of Practice (stay tuned for a link and video on that).
I'm also going to be on Teachers Teaching Teachers on Wed., March 12 at 9pm Eastern with a bunch of other great open advocates talking about why open matters. Please join us if you're available.
If you think open is important, make sure to tell others about Open Education Week and share the open love!
Posted by karen on February 4, 2014 in Uncategorized
These notes and slides are for a webinar I'm doing with the Washington State Office of Superintendent of Public Instruction on "Open Professional Learning."
In this session, I'm talking about open resources for learning about copyright and OER and for other openly-licensed professional development resources, including MOOCs. There is so much out there!
All of these materials are open licensed so feel free to remix, reuse, and redistribute as you like.
Slides:
Related links:
Resources for learning about open educational resources
Resources for learning about copyright and fair use
Open-licensed professional learning content
Other resources
Posted by karen on February 4, 2014 in clmooc
Over the last year, I've learned a lot about MOOCs, both as a participant and as a facilitator, in all cases as a learner. Much like my learning curve with Twitter, I dove deep and went from "meh" to "wow."
One of my biggest leaps in understanding came when I realized that "all MOOCs are NOT created equal," and in fact, there are huge differences between xMOOCs and cMOOCs.
The Making Learning Connected MOOC (CLMOOC) was especially influential in my thinking. It came at a time when I was solidifying my relationship with the National Writing Project and finding a home there. If every MOOC were like CLMOOC, I'd spend all my time there (and in fact, parts of CLMOOC, especially the relationships we formed, have lived on, which is a real testament to its power).
The CLMOOC facilitator team  has been working hard on a collection of resources that synthesize what we learned in designing and going through CLMOOC together. That collection has now been published, and I am proud of that work as well.
I look forward to future MOOC experiences. Like all learning experiences, I will try to choose carefully and will exercise my learner independence to come or go as meets my needs. I hope others will do the same.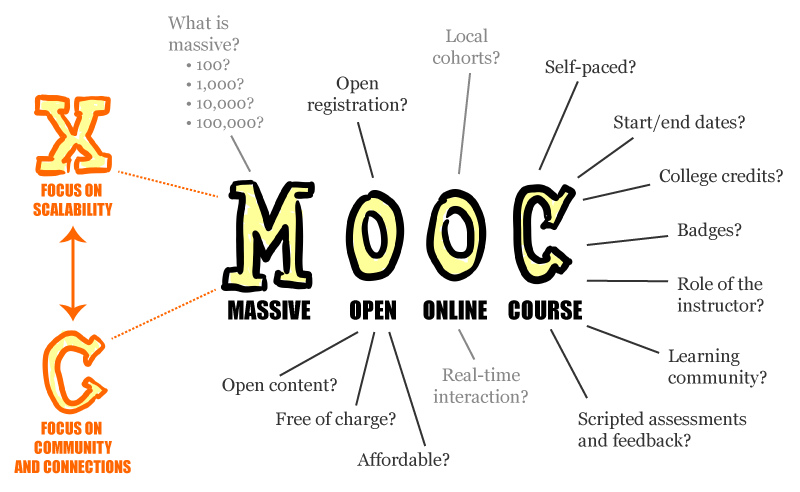 Posted by karen on January 26, 2014 in Uncategorized
In #rhizo14 this week, the question is how to you enforce independence in learning?
Of course, this is a paradoxical question – can you really force people to take control of and responsibility for their own learning?
This leads me back to a debate I've had with myself over and over again in the last few years that I've become a believer in peer learning. I can support, beg, cajole, and encourage self-directed learning, but in many (most?) cases, this doesn't make it happen. Maybe I'm just not a very inspiring peer learning leader. But in probing on this question over and over again, I have come to believe that the majority of folks in my main audience (mainstream K-12 teachers) don't have the desire or the willingness to self direct their own professional learning. (The reasons for this are many, but that's another post.)
So, as someone who really believes in peer learning, that leaves me with a few choices. First, I could simply be happy learning in community with the smaller opt-in group that wants to learn in this way. Second, I could keep embracing peer learning and try to convert more mainstream teachers (and likely be frustrated when they vanish). A third option I've started to experiment with is a hybrid sort of model that uses some peer learning oriented approaches, but also includes enough more mainstream teaching and learning methods to keep more folks engaged.
Frankly, I don't like any of these options.
The first is probably the best option, but it is really preaching to the choir and doesn't move the needle much. Selfishly, though, it may serve my own learning the best, and certainly isn't frustrating, as the other two options are. The third option attracts and maintains a bigger audience, but does it move things along? Can those who don't want to direct their own learning be moved along by being a part of a community and seeing others model the behaviour?
Sometimes, it all seems like too big a challenge for me.
Posted by karen on December 18, 2013 in DLMOOC
I'm working on another MOOC, this one focused on deeper learning, and it is prompting me to think a lot about what deeper learning means to me.
(As background, the Deeper Learning MOOC or DLMOOC is a free, flexible, nine-week online course that will allow K-16 educators to learn about how deeper learning can be put into practice. It starts on January 20.)
To me, deeper learning is about the kind of learning experiences where you immerse yourself in something and learn in a way that sticks with you for life.
Thinking back on my own academic experiences, I realize that while I was in many ways the model student in elementary and secondary school, I rarely experienced deeper learning. I wasn't particularly "smart," but I was very good at the game of school. I was an excellent reader and writer, and perhaps most relevant to my success, I was a great test taker. I could whip through textbooks and ace whatever assessments were given, but I retained little. The few K-12 experiences I had that I would characterize as deeper learning were out of the mainstream of the curriculum – a science fair project, several independent study projects, extensive journaling on topics that mattered to me. These are the learning experiences that have stuck with me over the years and influenced my life and work as an adult.
The Hewlett Foundation defines deeper learning as "using … knowledge and skills in a way that prepares [students] for real life." It is "mastering core academic content…, while learning how to think critically, collaborate, communicate effectively, direct their own learning, and believe in themselves (known as an 'academic mindset')." Curiously, this is a good description of my graduate school experience. It was filled with academic content, critical readings, collaborative group projects, and presentations. And yet, here too, I don't feel that I learned deeply. Instead, I was fulfilling requirements to get a piece of paper.
In truth, this may be my own fault, more so than the program's. While I was in graduate school, I was also working a 60+ hour a week job. Ironically, this job was where I experienced deep learning. There I was engaged in real-world content that consumed me, and my work had real implications. The elements of content, critical thinking, collaboration, effective communication, self-directed learning, and academic mindsets were present in both grad school and my job – but the learning experience was completely different.
As a teacher, I think the best example of deeper learning in my east African classroom was when we threw out our British curriculum for six weeks and engaged in a cross-disciplinary African studies unit. We still learned math, science, history, and language arts, but it was suddenly brought to life by hands on projects based in a more relevant context.
What do these personal experiences in deeper learning have in common? Personal relevance. In-depth exploration. Getting lost in discovery and problem solving. Immersive learning. Perhaps the particular strategies for achieving this (project-based learning, maker activities, etc.) should vary with the learner and the context. Certainly, there is no magic formula for achieving success. As with curriculum, good teachers can be successful with bad materials/methods and vice versa.
What does "deeper learning" mean to you? If you are interested in puzzling through what deeper learning means and seeing some stellar examples of deeper learning in action, perhaps you'll join us for DLMOOC in January. You can sign up here.
Posted by karen on December 9, 2013 in clmooc

I was happy to see Open PD as a category in the Edublog Awards for 2013 and even happier to see several projects I worked on over the last year nominated. These include:
as well as a couple other project I regularly participate in, Classroom 2.0 LIVE and Connected Educator month.
(A few notables omissions from this category, in my opinion, were DS106 and Mozilla's Teach the Web.)
Go vote for your favorites, and remember you can vote for more than one.
As I do whenever I look at sites claiming to be "open," I looked carefully at the sites in this category to see if they pass muster with what the open movement stands for. Happily, most of these. Several of the nominees (including the three bulleted ones above) were open in all regards — open licensed, free and open to anyone, and on the open web (not behind a firewall).
It's gratifying to see so many great open PD choices available. It's an exciting world!
Posted by karen on November 1, 2013 in Uncategorized
This is going to a long, somewhat circuitous post, but if you hang in to the end, it will wind around to open education.
A thought occurred to me yesterday: If kids who did well on tests like me would have had a vocational ed track option in school when I grew up, I could have saved a lot of people a considerable amount of time, money, and aggravation.
What do I mean by that? Well, when I went to school, I was a "high achiever." (I wasn't particularly smart, but I did very well on tests.) That marked me for a certain college and career track, which I dutifully followed for the next 40 years or so, pursuing the American dream of success.
Growing up, I always enjoyed woodworking and other manual arts type projects with my dad. I also took a few shop classes that I really liked. But never did I consider that kind of work as anything but a hobby. In the worldview that I'd been brought around to accepting, successful people run companies; they don't work as carpenters or farmers.
I went along with that line of thinking for many years, climbing the proverbial corporate ladder, until one day I decided it really wasn't what I wanted to keep doing. Now I spend a fair amount of my time doing construction, growing food, and pursuing other activities that fall outside of white collar work. A very good day for me now is one during which I spend little time at my desk. (I do still have a desk, and I do still do "office work." It's somewhat of a financial necessity, though I'm still working on that puzzle.)
I love my now very changed life, but I can't help wondering how life might be different if I'd seriously considered these options at a younger age.
I have a friend whose very intelligent and successful young son recently left college to WWOOF on an organic farm. I have another friend who is doing work overseas on rural land reform issues. Others I know are deeply engaged in social justice work in the field.
Setting out on these courses as a young person opens up a world of possible lives that don't involve working at a desk in corporate America. Ruling these types of choices out leads to different choices.
What does this have to do with "open"?
Well, in my expanded view of what "open" means, I think it has a lot to do with personal agency and choice. It has to do with less "compulsory" or even strong pushes in one direction or another.
Who are we to indoctrinate kids with what success means? Maybe we should focus more on what my friend monika calls "that thing that we can't not do."
Posted by karen on October 24, 2013 in Uncategorized
I love open online communities. I mean, I really love them. More and more, I find value in the conversations and sharing in these communities, much more so than in other content resources. This is the way learning should be.
Mostly, these communities for me exist in places like Twitter and G+.
In spaces where there isn't strong community or that the community is only episodic (for example, with P2PU courses or some MOOCs), I really miss it.
So when I started thinking about some new plans to increase awareness of OER and open learning, starting an online community of practice was a natural. There are a lot of reasons this makes good sense. It's a deeper means of engagement than conference presentations or other tradition awareness building activities. It is more authentic and has an opportunity to address some real challenges educators face. It has the possibility to be self-sustaining.
But then I thought "Does the world need one more online community?"
Yes and no, I think. Yes, because there is no better way to learn and grow than through community, and many folks aren't on Twitter and G+. In fact, one of my concerns about these spaces is that many conversations are dominated by "the choir." If you want to reach new, mainstream, and especially not as connected audiences, this is a tough way to do it.
No, because, well, there are a lot of community spaces already out there, all fighting for attention.
Thoughts?
Posted by karen on October 16, 2013 in Uncategorized
I just had a piece published by Info Week about open educational resources, advocating for the position that all publicly funded educational resources should be openly licensed.
After it was published, someone wrote to ask me about how I would respond "to someone who would object to the idea that OERs and online distribution of curricular materials alone will provide a comparable education at little to no cost.  What about the cost associated with providing instructors?"
Good question and one that is often raised. Below is my answer.
"For a long while, I too worried about the issue of quality instructors and how that influenced content delivery and learning. More recently, though, I have shifted my own thinking on learning and have come to appreciate the richness of a more constructivist and peer learning driven model. It isn't all about the expert instructor transmitting knowledge to learners.
Also, from a more pragmatic standpoint, I've seen learners thrive in situations where there isn't necessarily an instructor leading the process. With regards to learning, I don't think there is any one model that works for everyone. In my opinion, OER is one solution that can provide great value to a great many though."
Now, don't get me wrong — in K-12 education, I feel strongly that the number one predictor of learning success is the teacher. I would never argue that a teacher isn't essential to the learning process in schools. But, having said that, I don't believe that learning necessarily has to happen in schools or with a teacher. More and more learning happens in informal spaces. We should support as many avenues for as many types of learning as possible.
And, bottom line, open licensing publicly-funded resources facilitates that. This kind of policy provides whole new avenues for informal learning In formal spaces, it also could free up additional dollars to better compensate hard working teachers.
What do you think?