With several different groups (districts, states, publishers, etc.) working on tagging content assets — especially open ones — for the new Common Core standards, a group of us thought it might be useful to have a standard (no pun intended) tagging schema.
I don't know much about what makes a "good tag," but not being one to let ignorance stand in my way, I'd like to throw out a tag format to get input.
Here's a first thought on this: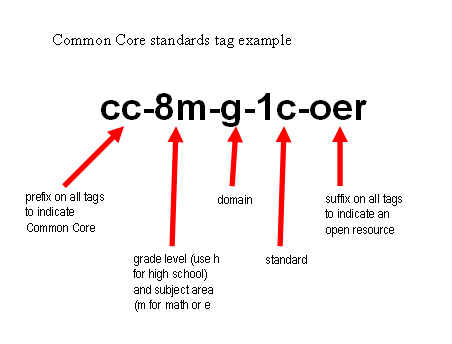 One question I have is with regard to the suffix. My thought was that it would be nice to be able to search a repository and find all the content for standard G-1c that is open. However, another alternative would be to omit the -oer suffix or have a separate oer tag and then search on the combination. I guess you could also tag both with and without the tag (e.g.  both cc-8m-g-1c-oer and cc-8m-g-1c).
What other ideas, thoughts, comments, etc. do you all have?
[Thanks to Doug Sovde at Achieve for helping think this through.]
Tags for new Common Core standards