We are hosting two one-hour webinars to highlight some great OER sites. Anyone is welcome to attend. (Here is the sign-in link.)
Webinar  – Where OERs Hang Out – Part 1
Tues., Oct. 11, 5:00pm Pacific (8:00pm Eastern)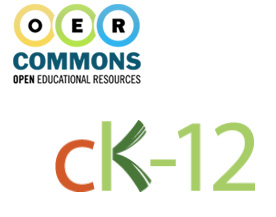 This webinar will feature quick tours of two great sources for open educational resources. Participants will also have time to ask questions about these sites and how they're being used.
This webinar will feature:
Lisa McLaughlin with OER Commons, a network for teaching and learning materials with over 32,000 resources for K-12 through college
Neeru Khosla with CK-12, which uses an open-content, web-based collaborative model termed the "FlexBook" to pioneer the generation and distribution of high quality educational content
---
Webinar – Where OERs Hang Out – Part 2
Tues., Oct. 18, 5:00pm Pacific (8:00pm Eastern)
Following a similar format, we'll see two more sites and tour their content, followed by questions and answers.
Ahrash Bissell from MITE, home of NROC and Hippocampus, a project providing high-quality, multimedia content on general education subjects to high school and college students free of charge
Kathleen Duhl from Curriki, an online community with over 40,000 K-12 learning resources