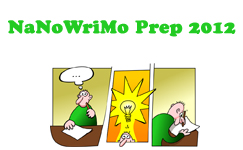 I love the NaNo Prep group on P2PU. (NaNoWriMo is a project undertaken by thousands each year to write a 50,000 word novel in the month of November.)
As I had a hunch it might be, this group is everything I think P2PU is or should be about. It is not leader/instructor-led. A variety of folks are editing and adding tasks. People are accomplishing authentic, self-driven tasks. It is a well-functioning peer group through which I have learned new things, gotten support, and made new friends.
So there are clearly lessons to be learned from this experience. What makes this different from other peer learning experiences?
I think the most important thing is that this group supports a real task — writing a novel — that we were all planning to do anyway. The smaller tasks that lead up to this larger goal genuinely support the goal, and in this group, can be customized by each person to support their own project.
The group dynamic — we all self-identify as writers — is positive. We all love writing. Peer learning is a lot more fun when you love what you're doing, individually and as a group.
We are all collaborating in the sense that we are supporting each other to write our novels, but in the end, the central task is individual. (Sometimes, collaborative tasks can be pretty contrived and that detracts from motivation, I think.)
I think some great novels will be written in November!
I love our writing group!