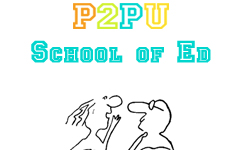 The P2PU School of Ed (pilot) — formerly, briefly known as PD on P2PU — is now up!
This school is about hands-on learning driven by each educator's particular needs and classroom situations. It's about connecting, collaborating, and creating, not just reading or studying.
Course descriptions are available for all seven courses:
We'll be opening for registration soon (before the end of the month) so stay tuned!
[iframe: src="http://player.vimeo.com/video/27619552?title=0&byline=0&portrait=0″ width="400″ height="225″ frameborder="0″]