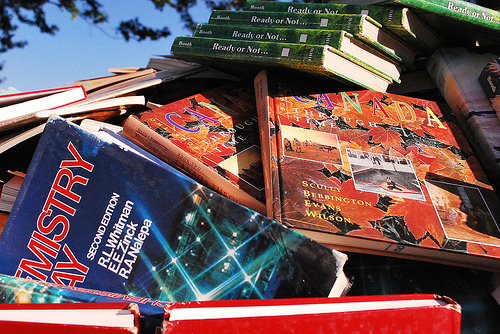 I've been talking a lot to folks lately about the idea of open textbooks beginning to replace conventional textbooks, allowing both for more differentiation and for vast sums of money to be redirected toward more useful things (like professional development and customization).
People have asked me how they can start getting involved in open textbooks. Here are a couple ideas. First, go explore Wikibooks and especially Wikijunior. There are tons of open textbooks here that you can use, edit, contribute to, customize, or even create your own.
If you're looking for a project to get your students involved in, look at the international collaboration In Our World: Portraits of Communities across the Globe. This text will be written by students around the globe with each class creating a chapter to tell about their community. What a great way to facilitate students writing for a genuine audience, while collaborating with other classes around the world. This project begins in August. If you'd like to participate, you can contact the coordinators at Old Dominion University by emailing jkidd AT odu DOT edu for more information.
Another bigger way to get involved in open textbooks is to talk to your district curriculum and instruction folks about open education and the potential of open textbooks. As our curriculum leaders begin to see the advantages, this movement will really start to gain steam.
[Textbook photo credit: caryatidxx / Emilie from Flickr http://www.flickr.com/photos/dearlydeparted/3657275396/]
Open textbooks and wikibooks for K-12 schools