This year, with support from the Hewlett Foundation, we launched the K-12 OER Community of Practice (COP).
This project grew out of my years of doing OER advocacy work in K-12 and my thought that it was time to take it to the next level, not just to promote awareness, but to support use. The goal of this project was to create an online community of practice to support those who have begun using OER and move those who are aware and interested forward toward actual use.
Through my work in other online communities in the past, I am a believer that this is a powerful way to support and deepen practice.
To begin, I got a group of friends and OER advocates together to brainstorm the design of the community. There were several key design decisions we wrestled with, including whether to house this as a separate space (see "Does the world need one more online community?") and whether to use open tools vs. a proprietary space like G+ or Ning.
After making some decisions, we went ahead with development and launched the site in March, 2014. We featured sections on getting started, classroom use (ELA, math, science, social studies), open textbooks, and open online and blended learning.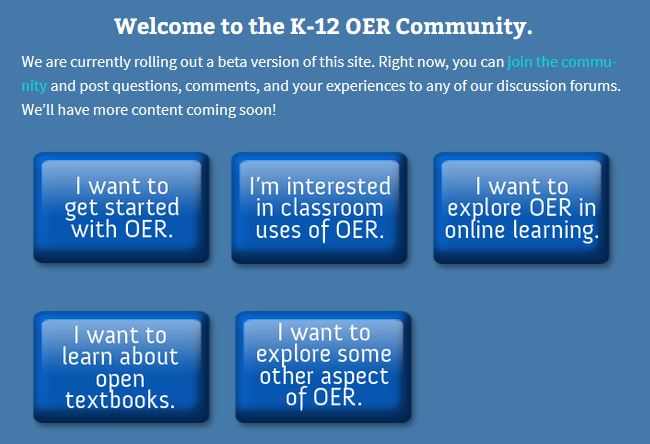 While the early interest in the site was strong, actual use of the discussion areas was low. Views of the site were higher, but not as much as I'd hoped for. Our best uptake came from social media, which we emphasized more as the year went on, by tweeting more, creating a series of storifies, etc.
I attribute some of the slow adoption of this community to the fact that there just aren't the number of K-12 schools adopting OER that we'd hoped for (and some of those who are don't really identify it as "OER"). Also, in hindsight, I might reconsider our initial decision to house this with open tools (WP) on our own site. Based on other experiences, I think it could have been more successful on G+ where there is already a critical mass of educators gathered.
I say that with some hesitation, as I have often fought against G+ (and other similar platforms) because of their commercial and proprietary (not open) nature. But you can't argue that there are crowds there, and perhaps asking people to go to one more place (albeit an open one) was too heavy of a lift. Sometimes taking the moral high ground doesn't get you where you need to go.
Now I need to decide whether to continue the COP site where it lives now or to move it elsewhere. G+ anyone?
Reflecting on my year of open – part 2/K-12 OER COP