Thinking more about the idea of creating a high quality curriculum resource that is open, I have focused in on writing as a subject matter. Why? First and foremost, I love writing and think it has the ability to transform lives. Beyond that, it transfers to all other subject areas and grade levels, and success in writing is correlated to success in many other endeavors. Writing is fun and rewarding. Technology can greatly enhance writing skills for many.
So here are some specifics. These are very preliminary. Please chime in with your thoughts by commenting or emailing me. (I hope to have a collaborative prototype up by early next year.)
The Open Writing Space
Project goals:
To inspire a love for writing and to help writers of all ages develop their craft
Target audience:
Writers of all ages, from elementary school through adult, both in formal and informal contexts
(I'm envisioning modules that could be used in elementary, middle school, and high school classrooms; sections that could act as online courses for adults; private areas for personal writing; springboards for personal writing; community space for writing and reading clubs; and more.)
Random ideas for modules:
Inspiration
Video vignettes from authors, casual writers, teachers, kids,and others talking about writing
Writing prompts
Reading to write (online book clubs, RSS feeds of relevant readings, etc.)
Real life writing tasks
Blogs
Writing portfolios
Craft
Writing process exercises
Developing a voice
Grammar/style handbooks
Traits of writing
Online writing assessment
Character development
Writing dialogue
Non-fiction writing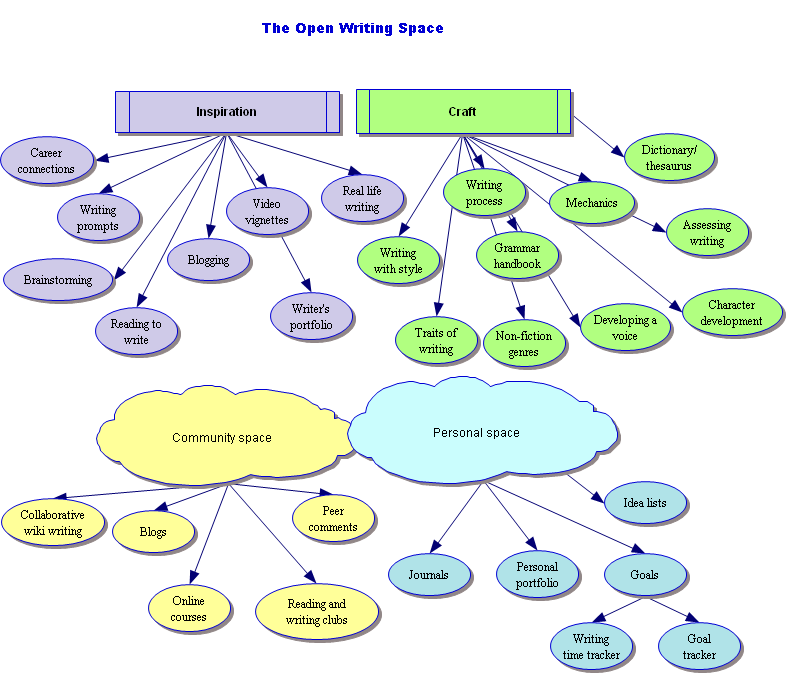 Licensing:
All content in the "community space" will be licensed under Creative Commons Attribution.
All content in people's "personal space" can be licensed however individuals choose. (This content won't be in public view unless users choose to publish it.)
Questions to think about:
What tools are best suited for this? (Elgg? Drupal? Moodle modules for online courses? What Open Source online writing tools are available?)
How do we deal with kids under 13?
Who would be useful partners in this project?
How do we make sure this is a useful and used resource (marketing)?
What parts should be built first?
Would you like to be a part of creating this, and/or is it is a resource you could use?
More specifics: An open writing learning environment