remix
Posted by karen on November 21, 2012 in Uncategorized
I was in a cool workshop today with Chad Sansing and Andrea Zellner about remixing, play, and creativity.
At the start of the workshop, each group was given a bag of random materials (legos, pipe cleaners, playdoh, tape, beads, etc.) that we were to remix to create a story.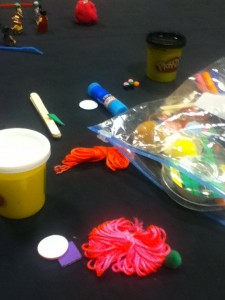 This was a prelude to a discussion about openness and agency in a make/hack/play context.
This made me think about a couple activities that might be used to launch our online maker space.  Here is one.
Hack a digital story – Here you'll find a collection of digital parts (characters, photos, music clips, settings, etc.). Make a story from it. Here's an example of one that you can do. Have fun, and let me know what you think. Also, feel free to create your own remixable story set.
Posted by karen on July 24, 2012 in Uncategorized
The world of sharing is so rich because so many great people choose to share freely.
Would you like to share your work in a way that others can easily make use of it? Here are some tips.
License your work under a Creative Commons license.
This means that you are saying to others "It's ok to use my stuff without asking first."
The easiest way to do this is to just write "Copyright [your name], licensed under CC BY" (or whatever license you choose) on your work.
You can also use the Creative Commons license chooser. Once you choose a license, it will give you a bit of HTML code to paste in your web site. This will make your works more easily found by search engines.
Post your work on sites that make sharing easy.
Here are some of my easy-to-use favorites:

These sites all support Creative Commons licensing.

Use formats that make remix easy.
This means avoiding things like PDFs and using files that folks can easily edit.
Tell the world you are sharing.
Tweet, post, yell it from the rooftops.
Spread the word about sharing.
Tell others about the benefits of using a Creative Commons sharing license. The more we all share, the better life is.
Posted by karen on May 10, 2012 in Uncategorized
On Sat. May 19 at 1:oo pm Eastern, I'm going to be doing a free online workshop on "Remixing Open Educational Resources for Your Classroom" (webinar link here) as a part of the Virtual 4T Conference. CEUs are available for this session.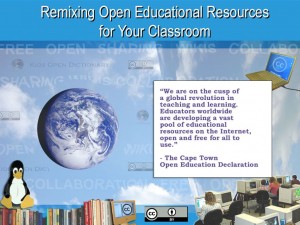 This 2-hour workshop will be almost entirely hands-on (and online?!?!). I'm trying a new format. It will look something like this:
15 minute intro – What is remixing? What is OER?
1-1/2 hour – Using open content (a list of resources supplied), participants will remix for topics/lessons of their choice.

Everyone chooses a lesson or topic that they'd like to address. They will also pick a final remix format (web page, PowerPoint, ebook, movie, etc.).
Participants can work individually or in small groups.
There will be a shared wikispace where people can collaborate or post their work if they like (or they can use their own space).
I'll be available for support throughout the two hours (and by email afterward).
The idea of doing an online workshop that is primarily hands-on with "on call" support available is new for me. I'm excited about it.
I'm hoping some great remixed, shareable content comes out of this! Hope you can join us.
And stay tuned for a debrief afterward on how this format worked.
** UPDATE **
This workshop went great! Here is an archive recording of it.
Posted by karen on October 30, 2011 in Uncategorized
Here's a short presentation on some of the best sources for open-licensed clip art, photos, sound effects, music, and video that I did for our P2PU course on OER in the classroom.
Posted by karen on October 28, 2011 in Uncategorized
FreeReading is a great site for all kinds of early literacy resources. One of my favorite parts is the decodable reading passages.
Unfortunately, to date, these have only been available as pdf files. Pdfs are good for printing, but not much good for other uses, like putting on mobile devices, interacting with, making movies, etc.
The great thing about open licensed content, though, is that you can remix content like this.
So this summer and fall, I've been working on taking these pdf files and remixing them into PowerPoint presentations, separate jpg art files, and interactive VoiceThreads (with audio and the ability for students to record their own audio).
original pdf: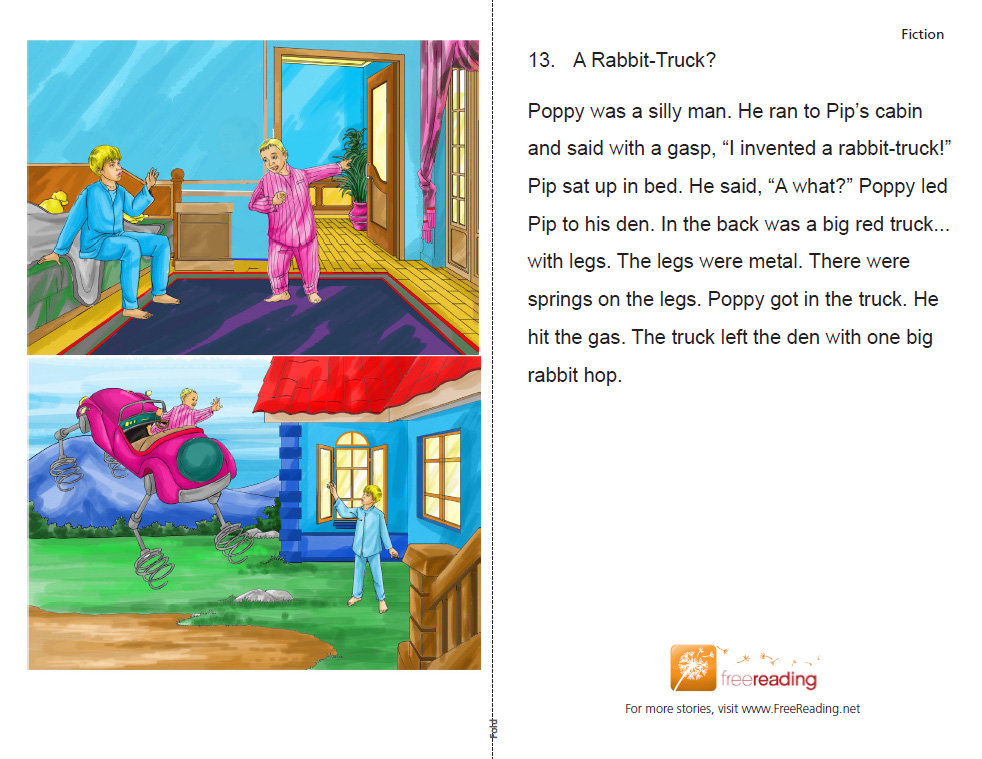 ppt:
Voicethread:
All of these resources for almost 80 stories are available  on Curriki, along with ideas for using them.
Thanks to FreeReading, the Hewlett Foundation, and Bon Education for inspiring the idea to do this and to Steve O. and David Wiley and his Educational Productivity Pledge (see P.S.) for the impetus to move ahead with it.
Posted by karen on June 14, 2011 in Uncategorized

A little over a year ago, I had an idea to create pre-packaged sets of open-licensed photos, diagrams, maps, audio, video, etc., organized around themes that could be used by teachers or students in word-processed documents or presentations or used to create web sites or other multimedia presentations.
Now we have some new media sets available. Here's the whole list:
Social studies
Science
Language Arts
For each media element in the set, just right-click the file to find the credit, license, and source link.
There are also some generic, open-licensed music selections available here.
If you have ideas for new media sets or if there are items you'd like to see added to the above sets, let us know!
And even better, if you are interested in creating your own media sets to share with your teachers and others, here are some notes on how we did this. If you upload your work to Curriki and tag with a keyword of mediaset, we'll all be able to find them easily.
Posted by karen on March 28, 2011 in Uncategorized
A very short video about the Kids Open Dictionary…a very significant part of my life and a definite labor of love! Hope you'll check it out and join us. (This video was also my final project for my P2PU marketing class. wOOt. )
Posted by karen on September 15, 2010 in Uncategorized
Sal Kahn through his Khan Academy has built a tremendous collection of over 1800 open-licensed videos offering instruction in math and science. They cover topics in arithmetic, algebra, geometry, statistics calculus, and more and are licensed under CC BY SA.
However, up until now, the videos have only been available on YouTube. This has posed two problems for educators: 1) YouTube is blocked in most school districts and 2) YouTube's terms of service prohibits accessing its content through other technologies (e.g. downloading the videos for offline use through other services — I'll leave the interpretation and debate on this aside for now).
Now, however, the Khan videos are available elsewhere! Curriki has them available as both embeddable and downloadable files. They have also created a group to "organize, extended and build a community of practice around this content." This is a great opportunity to collaboratively remix this content and add to it. (The videos themselves are mostly narrated chalkboard talks — like most resources, very useful to some students and as much to others. They could however be combined with some other great open math content out there and used to differentiate math instruction. I have an idea myself to to remix some of this into a series of middle school math courses in Moodle.)
Another site has collected the Khan videos for download onto a USB drive or server. (Thanks to Steve O. for this link.)
There are sure to be more creative uses of this great collection of content to come. Let the remixing begin!
Posted by karen on July 6, 2010 in Uncategorized
There are so many great open resources that teachers can use in creating multimedia projects (reports, PPTs, web pages, wikis, etc.) with their students, but they take a lot of time to find and correlate.
As a part of a recent project, I've started putting together "media sets" — bundled collections of photos, maps, diagrams, videos, etc. on very specific topics for teachers and students to use.
Here's an example of one on Ancient China. It includes a timeline, photos of art from various dynasties, maps, etc. Each piece is open-licensed. You can right-click the file to get source and license information.
We also have media sets for ancient Egypt, contemporary Asia, contemporary Africa, American westward expansion, human interaction with our environment, etc. with more to come.
Questions for you:
Is this something that is useful to you?
What would make it more useful?
What other topics would you like to see?
Would you be interested in attending a 3-hour workshop at a conference at which participants would all build media sets on topics of their choice?