professional development
Posted by karen on May 14, 2013 in Uncategorized
Next week is the Virtual 4T Conference put on by the University of Michigan School of Education. This is a free, virtual conference (but registration is required).
If you've been wondering what the P2PU School of Open is up to, here is a great chance to find out!
On Monday, May 20 at 7pm Eastern, we'll be having a panel called "The Potential of Open Resources for Your Classroom." Jane Park from the School of Open will be joining us for this. Hope you can join this and other V4T sessions and expand your professional learning!
Posted by karen on March 13, 2013 in Uncategorized
Here is today's nugget of Open Education Week goodness — an overview of the P2PU School of Ed.
We're also having a webinar to showcase various aspects of P2PU today at 3pm Pacific time.
Posted by karen on February 5, 2013 in Uncategorized
It's hard to believe that it's been two years since the idea for the P2PU School of Ed entered my mind.
We've accomplished a lot in that time (roughly 35 courses/groups, lots of learning, great connections and conversations with both teachers and students, the beginnings of a community), and it seems like a good time to think about what we've done and learned and where we might go from here.
Here are some things I've learned:
Learning is social. Community is everything. (And the NWP community is awesome.)
Peer learning works best when it is designed by the group, not instituted from the top down.
Some topics lend themselves more to peer learning than others.
A defined start and end time seems to encourage participation, and shorter courses that can then spin off into more in-depth explorations work well.
Diverse groups are richer.
Groups with teachers and students are powerful. (And as in my f2f experiences, students often drive the innovation in formal educational environments.)
Here are some things I still don't know:
How do you encourage self-direction and agency in professionals who don't feel that currently? (We had a whole group just to explore this.)
Is formal credit/recognition (whether stipends, graduate credit, CEUs, etc.) of this professional learning necessary or desirable?
What can be done to begin to move this into more formal environments? (I love the energy of all "opt in" self-directed learners, but it would be a big win to get some schools to think about adopting this as a model for professional learning.)
How do you sustain this (both in terms of participants and in terms of facilitation)?
How do you measure success?
How big is big enough?
And so from all that, here are some thoughts about future directions. First, I don't want to compromise the core values of openness, authenticity, learner-centeredness by anything we do. Second, I want to continue to build the rich community we've started and to expand and involve others. In order to be authentic and learner-centric, having community members set the learning agenda seems critical.
On the sustainability front, I believe that we need some amount of funding to provide continued facilitation and infrastructure for this work, especially if it is to grow. I also know that K-12 schools spend a lot of money on professional development (not all of it resulting in high yields). Perhaps there is a creative way to bridge these two things for everyone's benefit.
At any rate, if you have thoughts or ideas about the future of the School of Ed, let me know. We're always open to new course/group ideas, new participants, new facilitators, etc. And especially, we're on look out for a couple schools who might be interested in trying this model of professional learning with their teachers.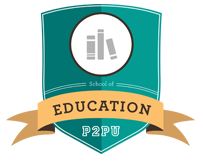 Posted by karen on November 26, 2012 in Uncategorized
Last week, I had the privilege of facilitating a panel at NCTE called "Open Learning: Empowering Teachers Through Professional Development."
Anyone who knows me knows that I have become a big believer in open models of professional learning through spaces like Twitter, P2PU, TTT, Digital Is, and others. This session was all about that. (Slides below. Also, we live streamed the session, thanks to Paul Allison, and the video is here.)
To me, these new models of professional learning are all about value, openness, self-direction, agency, and authenticity. It's time to reject PD that doesn't achieve these goals.
At the end of the session, we asked everyone to choose a few words that summarized what they thought the future of professional learning should be. Here they are.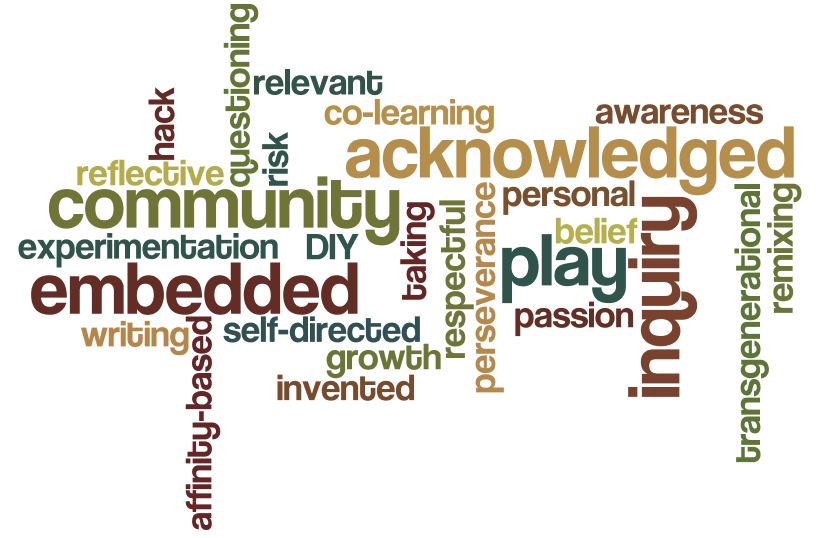 Please add a comment with your own thoughts on this and join us in one of the many online spaces to explore this further.

Posted by karen on May 18, 2012 in Uncategorized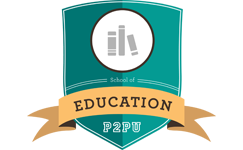 We are gearing up for an exciting summer at the P2PU School of Ed. (In case you've missed it, this initiative is all about free, open, peer-centered professional development for K-12 teachers).
Here is what we are planning for June and July. If you'd like to participate, please sign up. We're also looking for co-facilitators for new groups and are always eager to get suggestions for new offerings.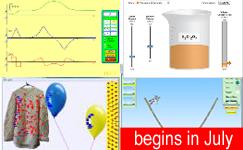 PhET Simulations for Science and Math
Description: PhET simulations are designed to provide an open exploratory environment that can be used in many different educational settings. In this three week course, you will learn about how the sims are designed, will examine some best practices for use, and will explore/create lessons you can use with your students.
Dates: July 9-29, 2012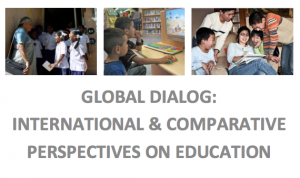 Global Dialog: International and Comparative Perspectives on Education
Description: This 1-month seminar is for educators, learners and parents who are keen to discuss and compare education systems from around the world. The course is divided into 4 modules each containing 1 or 2 short online videos, an optional reading, online asynchronous discussions and an optional synchronous discussion (via Skype) around the following topics: global definitions of learning and education, cross-country education borrowing and lending, educating the whole person, and creating sustainable education systems.
Dates: June 4 – July 1, 2012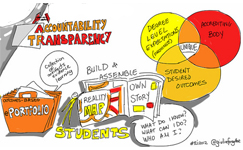 ePortfolios for Teachers
Description: A group to explore the use and development of online portfolios as a personal learning tool for teachers. We'll look at what purpose portfolios can serve, different tools for assembling an online portfolio, what kinds of artifacts can be collected, and how more formal credit might be tied to portfolios. Participants will have an opportunity to begin building an eportfolio if they choose.
Dates: July 9-29, 2012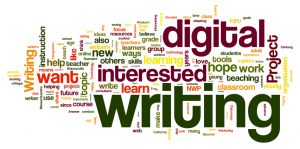 Making Writing and Literacy Learning Connections
Description: If "digital" is how we write, share, and participate today and into the future, what does that mean for the teaching of writing and for learning?
Join a National Writing Project study group as we explore these questions together through our own experiences and those of the NWP Digital Is community. Each week we'll focus on a different aspect of inquiry and practice related to writing, teaching and connected learning.
Dates: July 9-29, 2012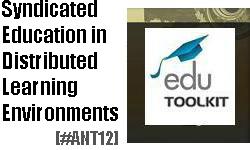 Syndicated Education in Distributed Learning Environments
Description: In education, schools create coherence based on 'Conceptual Orientation' (i.e. sense making), illustrating how theories and knowledge are related.  Following the emerging trend of Distributed Learning Environments used in Networked Learning, teachers also need to include 'Spatial Orientation' (i.e. way finding) to answer questions like: Where do I find useful Learning Resources (i.e. salience)?  How are these resources interconnected (i.e. pattern recognition)?  What is the underlying message (i.e. trajectory)?  During this course, you will create, deliver and manage an educational event that aggregates the latest work from participants within the cohort into one location.  This allows Peer-to-Peer (P2P) learning and keep the work they do in their own Personal Learning Environment (PLE).
Dates: June 25-July 14, 2012
Reimagining Developmental/Basic English Curriculum
Description: A design charrette for teachers, developers, content experts, and interested others to share, explore and create transformative practices, essential content and skills necessary for student success in college. This course, produced in collaboration with the National Repository of Online Courses (NROC), will take a systems approach to examining current content, standards and assessments, invite thought leaders/practitioners to discuss emergent trends in curriculum redesign, collaboratively explore transformative approaches and the role of digital and social media, and technology, to improve access and success for any student needing remediation.
Dates: July 9-20, 2012
** UPDATE ** This course has been added.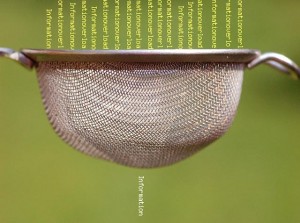 Curating Our Digital Lives
We curate our digital lives each and every day. How can we use curation tools, techniques and practices to support ourselves in our own learning and support youth as they engage in academic learning and production? Join this three-week-long discussion, facilitated in collaboration with the National Writing Project, to share your thoughts and to hear from others.
Dates: July 9-29, 2012
Posted by karen on April 17, 2012 in Uncategorized
PhET is is an incredible collection of interactive simulations for math and science from the University of Colorado at Boulder. They are high quality, research-based, free, and open licensed. And they offer accompanying teaching resources as well.
If you aren't familiar with PhET, there is a free webinar next week being offered by the Oregon Virtual School District.
Webinar link
Date: Tuesday, April 24, 2012
Time: 3:45 pm, Pacific Daylight Time (San Francisco, GMT-07:00)
Meeting Number: 928 566 534
(no password required)
Here are just a few of the interactive simulations available from PhET.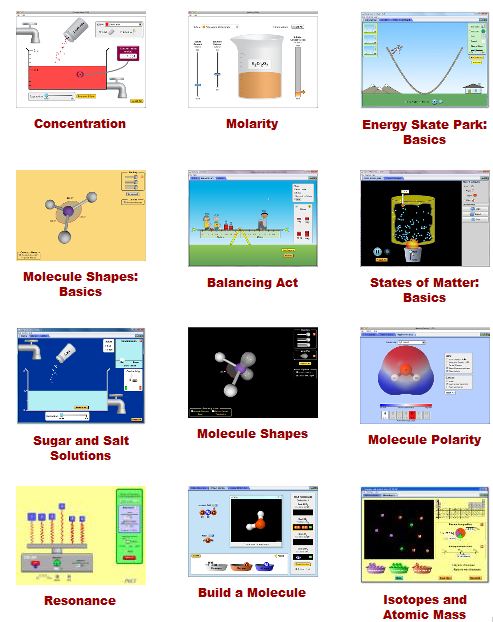 Posted by karen on March 22, 2012 in Uncategorized
A couple weeks ago at SXSWedu, we had a session to brainstorm some new peer learning groups on P2PU.
The outlines for these groups have now been turned into (preliminary) groups at P2PU, and we are looking for collaborators to help build out the groups and co-facilitate them. If you are interested, sign up to participate or email us (schoolofed at p2pu dot org).
These groups will likely start in May/June.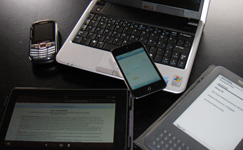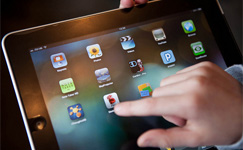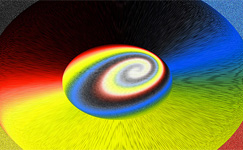 Student-driven K-12 Classrooms
Student-driven University Classrooms
Posted by karen on March 13, 2012 in Uncategorized
I'm excited about all the new things going on with sharing, especially as it relates to personal learning for teachers. There are a lot of new groups forming around the idea of open professional development, connected learning for teachers, and online communities of practice.
I recently took part in a panel on "Building a Culture of Sharing" at SXSWedu and am also involved in a P2PU School of Ed group about "Empower Your Personal Learning," both of which have gotten me thinking deeply about this.
Here's my big concern — those of us involved in this are a very small minority of teachers. I could venture to say that well over 95% of teachers are not involved in using the power of social networks to advance their own personal learning.
When I raised this point, someone said to me (paraphrasing), "Well, what's the problem? Sharing is as easy as breathing."
I don't think that's true. There are many barriers to sharing and engaging in self-directed personal learning. Some relate to time constraints, priorities, and personality characteristics. Some are rooted in fear or lack of agency. More troubling are those based in institutional barriers to sharing.
I would hate to see this movement go down the road of ed tech, where there is a small minority of folks engaged and benefiting, while the vast majority of teachers continue in the way that they have done for decades. Our students are the ones who pay the ultimate price for this.
So what is to be done? How do we involve the other 99% of mainstream teachers in this?
Posted by karen on February 24, 2012 in Uncategorized
Wondering what P2PU is all about? Here's a short video intro.
New School of Ed courses on P2PU are beginning March 5. Sign up now!
Posted by karen on February 20, 2012 in Uncategorized

SXSWedu is featuring a bunch of great OER sessions this year! Here's a quick list of ones to check out.
---
Tuesday, March 6
10:15am – 11:15am – Hilton Rm 400/402 – Create Something from the StoryBox – Alan Levine
10:15am – 11:15am – Hilton Rm 406 – Moving Beyond Textbooks: OER in Support of K-12 Ed – Jason Neiffer
11:30am – 12:30pm – Hilton Rm 406 – $5 Open Textbooks in High School Science Classes – David Wiley
2:00pm – 3:00pm – Hilton Rm 406 – Educating Everyone: What Next for Open Education? – Larry Cooperman
2:00pm – 3:00pm – Hilton Salon D – Implementing Open Educational Resources in K12 – Jeff Mao, Pam Buffington
2:00pm – 3:00pm – Hilton Salon C – The Power of Open: Creative Commons Licensing and its Impact – Cathy Casserly
3:15pm – 4:15pm – Hilton Rm 406 – OER: Share, Remix, Learn – Karen Fasimpaur
---
Wednesday, March 7
9:00am – 10:00am – Hilton Rm 406 – Making OER that is Easy to Find, Adapt & Translate – Katherine Fletcher
10:15am – 11:15am – Hilton Rm 406 – Let's Build a Collaborative Learning Space – Karen Fasimpaur * Hands on – Bring your own device
11:30am – 12:30pm – Hilton Rm 400/402 – How Digital Content Fosters Customized Learning – Neeru Khosla
11:30am – 12:30pm – Hilton Rm 406 – The Future is Now: Mobile Open Education Resources – Sandy Khaund
2:00-3:00 – Hilton Rm 406 – Integrating OER into a Strong Instructional Model – Lindsay Bellino, Marc Nelson
3:15pm – 4:15pm – Hilton Rm 406 – Developing a Culture of Sharing – Philipp Schmidt, Karen Fasimpaur, Alan Levine, Jim Groom
---
Thursday, March 8
9:00am – 10:00am – Hilton Rm 406 – Is Open Content the Future of K-12 Education? David Wiley, Larry Rosenstock, Louise Waters, Neeru Khosla
10:15am – 11:15am – Hilton Rm 406 – Employing OER Evaluation Tools – Jennifer Childress, Lisa McLaughlin