P2PU
Posted by karen on May 14, 2013 in Uncategorized
Next week is the Virtual 4T Conference put on by the University of Michigan School of Education. This is a free, virtual conference (but registration is required).
If you've been wondering what the P2PU School of Open is up to, here is a great chance to find out!
On Monday, May 20 at 7pm Eastern, we'll be having a panel called "The Potential of Open Resources for Your Classroom." Jane Park from the School of Open will be joining us for this. Hope you can join this and other V4T sessions and expand your professional learning!
Posted by karen on March 20, 2013 in Uncategorized
If you are interested in what's new at P2PU, here's the video archive of a webinar we did for Open Education Week last week. (slides here)
Posted by karen on March 13, 2013 in Uncategorized
Here is today's nugget of Open Education Week goodness — an overview of the P2PU School of Ed.
We're also having a webinar to showcase various aspects of P2PU today at 3pm Pacific time.
Posted by karen on March 12, 2013 in Uncategorized
Today's nugget of Open Education Week goodness —the Learning Creative Learning course from MIT is featuring open learning as this week's topic.
Even if you aren't "enrolled" in this course, you can participate in this week's activities (or any for that matter) here in our group on P2PU.
How have you participated in open or peer learning? What benefits have you found?

Posted by karen on March 11, 2013 in Uncategorized
Today's nugget of Open Education Week goodness — the P2PU School of Open is now open!
You can enroll for courses here.

Posted by karen on March 5, 2013 in Uncategorized
Thanks to everyone who attended my Future 15 talk at SXSWedu today. Below is the slidedeck. (I'll be adding audio by the weekend if you want to share with others.) I've also included links to some of the things I talked about below. Drop me a line if you'd like to chat more.

Paul Allison's work – Youth Voices Play and at P2PU (all linked from Youth Voices as well)
PhET (interactive simulations)
FreeReading (reading intervention) and remixed versions (ebooks and Voicethreads)
Hippocampus (online courses)
CK12 (online textbooks, Flexbooks)
Curriki
P2PU School of Ed
Posted by karen on February 25, 2013 in Uncategorized
I'm involved in two MOOCs right now: the Spanish MOOC and the Learning Creative Learning MOOC.
The purpose of this post is to offer some observations about each of these, particularly as it relates to my previous post on the good, bad, and ugly of MOOCs in general.
I'm further along in the Spanish MOOC, which started in January. I enrolled in this MOOC as an alternative to a college Spanish course I was about to sign up for. I really want to learn Spanish and thought I'd give this a try. I'm spending a lot of time on it (roughly 8-10 hours per week).
Content-wise, I'm finding this course rich and deep, overwhelming even. I believe that the content is more in-depth and more useful than the college course I had looked at. It is mainly video-based with lots of dialogues from native speakers, delivered at native speeds, and a variety of interactive practice opportunities. It's very challenging for me, but I think I'm learning something.
At the start of this course, there were about 4,000 people enrolled. To me, there could be 40,000 or 4, and I wouldn't know the difference. I mostly go through all the content independently and have not real interaction with others. It is basically an online correspondence course, albeit one that is free and high quality.
There is a "peer learning" aspect of the course that consists of weekly G+ hangouts of students doing oral language activities together. I went to one. There were a half dozen people in the one I attended, most all of whom had some prior experience with Spanish. I felt (a) not able to participate much as a complete beginner and (b) not getting much help, since there were no real Spanish speakers there. I guess I didn't find that beginning foreign language study is really a fruitful area for peer learning. (That could just be me though. I have a lot of anxiety and frustration affect with this particular area of study.)
Like I said, I think I'm learning though. (I live near the border and in just a few weeks have already found that I can pick out some words and phrases in native conversations.) Does the fact that this is a MOOC have an influence on that? Probably not. Like I said, it seems to be an effective learning experience though.
As it relates to the MOOC discussion, this course is massive and, in some senses, open. (Enrollment was available to anyone, but the content is not open licensed.) It offers some innovation in that it is using new, adaptive software that does seem to individualize the experience. It allows a high degree of self-direction and self-pacing, as well, of course, as anywhere, anytime access.
The Learning Creative Learning MOOC is being offered by MIT Media Lab and P2PU. It consists primarily of pretty typical college course content: weekly readings, video lectures, and opportunities to engage in hands-on projects and explorations.
It's just started, so it's hard to conclude much at this point. What's interesting to me about this MOOC is how they're attempting to incorporate peer learning and community. At the onset, participants were grouped in sub-groups. (There were about 24,000 enrolled at the beginning.) Each group gets an email each week, and you can communicate with your group by replying to that email. But we don't know who is in our group or how many people are in it. (This is, in part, the "mechanical MOOC" model you have have heard about.)
Each group was invited to make a G+ community for itself. (There is also a whole course G+ community, but I find it too large to be meaningful.) Everyone's also been invited to form new groups, switch groups, or do whatever they want to make this work.
I like peer learning, and I like P2PU, so the first thing I did was to set up a P2PU Learning Creative Learning group. I was hoping to foster some interesting discussions and collaborations around this content there.
It's too early to say, but so far there hasn't been much action there. A couple people who I'm already friends with (and who are in my group, as well) are in it. A handful of others have joined as well. No one has participated much yet. (I have several ideas about why this might be, but I'm going to give it more time to see.)
What I can say is that, unlike Spanish, I think this content is ideally suited to peer learning, and right now I'm feeling a little lonely.
Well, time to stop writing and start MOOC'ing if I'm going to keep up with all this stuff! I'll write more as these MOOCs move along.
Posted by karen on February 5, 2013 in Uncategorized
It's hard to believe that it's been two years since the idea for the P2PU School of Ed entered my mind.
We've accomplished a lot in that time (roughly 35 courses/groups, lots of learning, great connections and conversations with both teachers and students, the beginnings of a community), and it seems like a good time to think about what we've done and learned and where we might go from here.
Here are some things I've learned:
Learning is social. Community is everything. (And the NWP community is awesome.)
Peer learning works best when it is designed by the group, not instituted from the top down.
Some topics lend themselves more to peer learning than others.
A defined start and end time seems to encourage participation, and shorter courses that can then spin off into more in-depth explorations work well.
Diverse groups are richer.
Groups with teachers and students are powerful. (And as in my f2f experiences, students often drive the innovation in formal educational environments.)
Here are some things I still don't know:
How do you encourage self-direction and agency in professionals who don't feel that currently? (We had a whole group just to explore this.)
Is formal credit/recognition (whether stipends, graduate credit, CEUs, etc.) of this professional learning necessary or desirable?
What can be done to begin to move this into more formal environments? (I love the energy of all "opt in" self-directed learners, but it would be a big win to get some schools to think about adopting this as a model for professional learning.)
How do you sustain this (both in terms of participants and in terms of facilitation)?
How do you measure success?
How big is big enough?
And so from all that, here are some thoughts about future directions. First, I don't want to compromise the core values of openness, authenticity, learner-centeredness by anything we do. Second, I want to continue to build the rich community we've started and to expand and involve others. In order to be authentic and learner-centric, having community members set the learning agenda seems critical.
On the sustainability front, I believe that we need some amount of funding to provide continued facilitation and infrastructure for this work, especially if it is to grow. I also know that K-12 schools spend a lot of money on professional development (not all of it resulting in high yields). Perhaps there is a creative way to bridge these two things for everyone's benefit.
At any rate, if you have thoughts or ideas about the future of the School of Ed, let me know. We're always open to new course/group ideas, new participants, new facilitators, etc. And especially, we're on look out for a couple schools who might be interested in trying this model of professional learning with their teachers.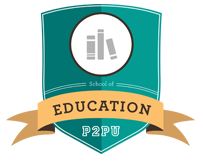 Posted by karen on September 11, 2012 in Uncategorized

Paul Allison through the NYC Writing Project's Youth Voices project has structured a learning game around a series of challenges for ELA, history/social studies, arts and media, and science. These challenges are tied to Common Core standards and competencies including Citing Evidence in Conversations, Independent Reading, Text-Dependent Research, Formulating Arguments in Areas of Interest, and Self-Directed Learning.
Here is the main site for this project.
This project includes a series of 15 challenges within each of the 4 subject areas listed above and are associated with 60 badges on P2PU. These challenges are designed for middle school and high school students and can be used as a full curriculum or in a variety of other ways that might fit your own learning goals. As with all open resources, these materials are intended to be adapted and remixed for your own use as well.
More information about the YouthVoices project is available on the site, as well as through this webinar.

Kudos to Paul, his students, and everyone else involved on this innovative new vision for a learner-directed curriculum.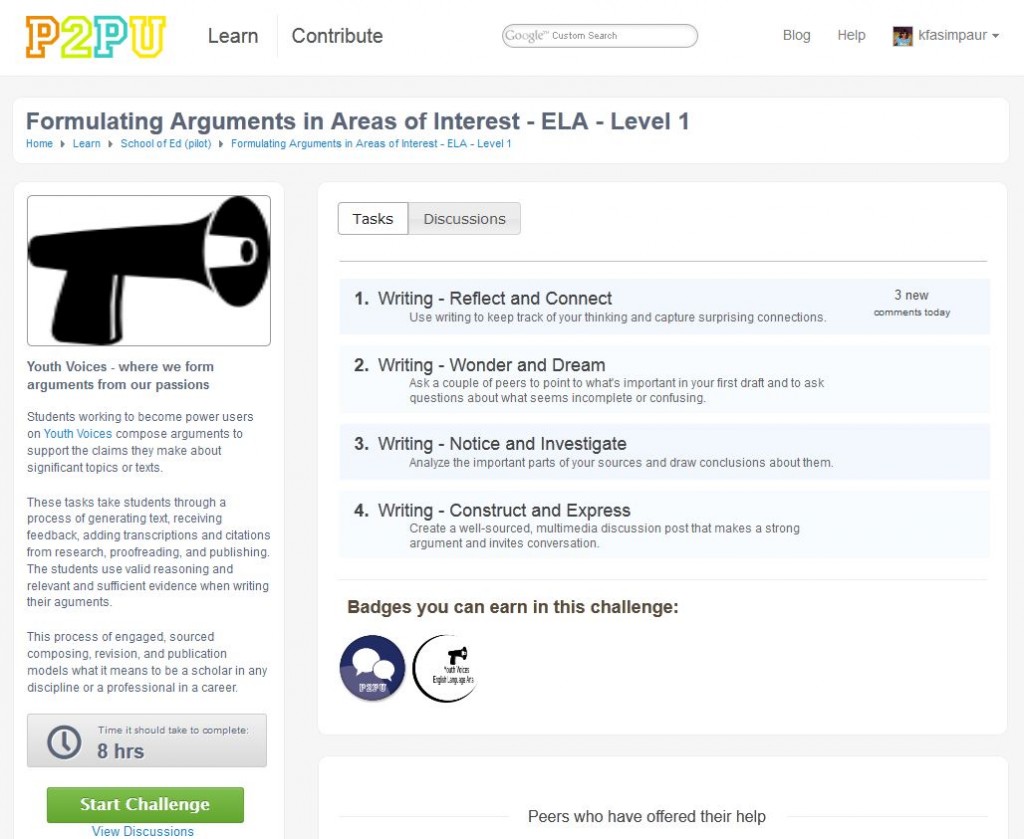 Posted by karen on May 18, 2012 in Uncategorized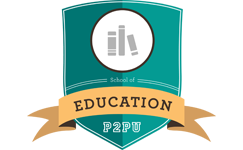 We are gearing up for an exciting summer at the P2PU School of Ed. (In case you've missed it, this initiative is all about free, open, peer-centered professional development for K-12 teachers).
Here is what we are planning for June and July. If you'd like to participate, please sign up. We're also looking for co-facilitators for new groups and are always eager to get suggestions for new offerings.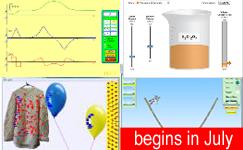 PhET Simulations for Science and Math
Description: PhET simulations are designed to provide an open exploratory environment that can be used in many different educational settings. In this three week course, you will learn about how the sims are designed, will examine some best practices for use, and will explore/create lessons you can use with your students.
Dates: July 9-29, 2012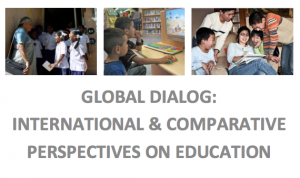 Global Dialog: International and Comparative Perspectives on Education
Description: This 1-month seminar is for educators, learners and parents who are keen to discuss and compare education systems from around the world. The course is divided into 4 modules each containing 1 or 2 short online videos, an optional reading, online asynchronous discussions and an optional synchronous discussion (via Skype) around the following topics: global definitions of learning and education, cross-country education borrowing and lending, educating the whole person, and creating sustainable education systems.
Dates: June 4 – July 1, 2012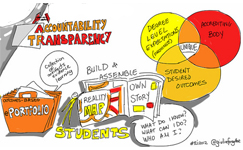 ePortfolios for Teachers
Description: A group to explore the use and development of online portfolios as a personal learning tool for teachers. We'll look at what purpose portfolios can serve, different tools for assembling an online portfolio, what kinds of artifacts can be collected, and how more formal credit might be tied to portfolios. Participants will have an opportunity to begin building an eportfolio if they choose.
Dates: July 9-29, 2012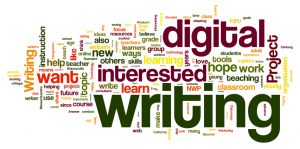 Making Writing and Literacy Learning Connections
Description: If "digital" is how we write, share, and participate today and into the future, what does that mean for the teaching of writing and for learning?
Join a National Writing Project study group as we explore these questions together through our own experiences and those of the NWP Digital Is community. Each week we'll focus on a different aspect of inquiry and practice related to writing, teaching and connected learning.
Dates: July 9-29, 2012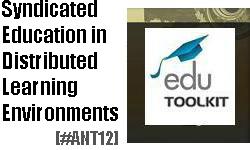 Syndicated Education in Distributed Learning Environments
Description: In education, schools create coherence based on 'Conceptual Orientation' (i.e. sense making), illustrating how theories and knowledge are related.  Following the emerging trend of Distributed Learning Environments used in Networked Learning, teachers also need to include 'Spatial Orientation' (i.e. way finding) to answer questions like: Where do I find useful Learning Resources (i.e. salience)?  How are these resources interconnected (i.e. pattern recognition)?  What is the underlying message (i.e. trajectory)?  During this course, you will create, deliver and manage an educational event that aggregates the latest work from participants within the cohort into one location.  This allows Peer-to-Peer (P2P) learning and keep the work they do in their own Personal Learning Environment (PLE).
Dates: June 25-July 14, 2012
Reimagining Developmental/Basic English Curriculum
Description: A design charrette for teachers, developers, content experts, and interested others to share, explore and create transformative practices, essential content and skills necessary for student success in college. This course, produced in collaboration with the National Repository of Online Courses (NROC), will take a systems approach to examining current content, standards and assessments, invite thought leaders/practitioners to discuss emergent trends in curriculum redesign, collaboratively explore transformative approaches and the role of digital and social media, and technology, to improve access and success for any student needing remediation.
Dates: July 9-20, 2012
** UPDATE ** This course has been added.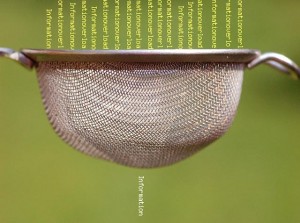 Curating Our Digital Lives
We curate our digital lives each and every day. How can we use curation tools, techniques and practices to support ourselves in our own learning and support youth as they engage in academic learning and production? Join this three-week-long discussion, facilitated in collaboration with the National Writing Project, to share your thoughts and to hear from others.
Dates: July 9-29, 2012