online learning
Posted by karen on March 13, 2013 in Uncategorized
Here is today's nugget of Open Education Week goodness — an overview of the P2PU School of Ed.
We're also having a webinar to showcase various aspects of P2PU today at 3pm Pacific time.
Posted by karen on March 11, 2013 in Uncategorized
Today's nugget of Open Education Week goodness — the P2PU School of Open is now open!
You can enroll for courses here.

Posted by karen on February 23, 2013 in Uncategorized
There is so much buzz about MOOCs these days. I've often said that I'm not a fan of MOOCs….but despite that, I'm have recently written an article about MOOCs and am currently enrolled in two myself.
So I thought it was time to write a post about what I see as the good and the bad, the bright spots and the shortcomings, in MOOCs.
First, there are many kinds of MOOCs, and applying the term to such a broad spectrum is confusing. <Insert rant about imprecise use of language.> The earliest cMOOCs were smaller, connectivist, personal. The newer xMOOCs are truly massive, often impersonal and focused on knowledge transmission.
This brings up the connections (or lack of) between MOOCs and peer learning (about which I am wildly enthusiastic!). I love the model of peer learning and community that exists in places like P2PU. For many pursuits and inquiries, I think there is not better way to learn than as a part of a community.
For some MOOCs, peer learning is a strong part. For many, it is not. My own personal opinion is that it is very hard to foster community in a short-term and "massive" situation, which is the realm of most MOOCs. Community building takes time and care. Further, I believe that active facilitation is a strong predictor of good peer learning experiences. Most MOOCs, by virtue of the fact that they are "massive" and that they are free and/or being done on a shoestring budget, lack good facilitation . (I have done some thinking about how strong facilitation can be done at minimal expense, but I'll save that for another time.)
So, to the extent that MOOCs can involve peer learning and community, I am excited about them. To the extent that they are just massive content delivery mechanisms with little built-in opportunity to interact and personalize, I'm less excited.
Here are reservations I have about MOOCs:
The trendiness – Education seems ruled by trends. We have all seen many come and go, leaving tired teachers and learners in their wake. MOOCs are the latest of these.
Nothing new – To the extent that some MOOCs are just a new name for transmitting online course content, they don't add much to learning.
Massive is overrated – I'm not sure that "massive" is the best way to facilitate learning. Many MOOCs seem focused on how many enrollments they generate, rather than whether learner goals are being met. (See "Opportunity" below for a counterpoint.)
Missing the big opportunity – There are so many exciting things about using online technologies for learning. Many MOOCs seem to be missing these and  instead are just delivering more boring video lectures and multiple choice quizzes.
Some have pointed to the corporatization of MOOCs as another negative. I don't necessarily identify this as a negative. As Bonnie Stewart points out, there is always room for subversion. The co-opting influence of educational-industrial complex on instructional materials and ultimately learning is as prevalent now in digital media as it has been in print. It's nothing new, but it is incumbent on us as teachers and learners to make the best choices for learning.
And here are the places where I can feel some excitement about MOOCs:
Openness – MOOCs are providing more access to more open licensed content. That is a good thing. (Important note: Open means different things to different people — open-licensed; openly viewable and transparent; open to enrollment by anyone, anytime. Some "MOOCs" offer none of these things.)
Opportunity and (more) equity – MOOCs unquestionably provide more access and opportunity to more people to engage in learning.
Decentralized community learning – In some cases, MOOCs are challenging the top-down knowledge transmission model of school and offering a decentralized, leaner-centered model instead. This is a clear benefit. (Again, not all MOOCs offer this, but where it's happening, it's a good thing.)
I'll save my reflections on the two MOOCs I am in for another post. In the meantime, what do you think about MOOCs? Where are the potentials, and where are the pitfalls?
What are your personal experiences?
Posted by karen on March 10, 2012 in Uncategorized
At SXSWedu this year, I was slated to do a hands-on session to brainstorm what makes a good collaborative learning space with strong peer learning and to begin building such a thing. The goal was to get people thinking about peer learning, to introduce them to P2PU, and to see what they came up with.
I am often not very good as fostering hands-on collaboration in a conference setting, especially when people don't know each other. Other challenges included that this session was only an hour long and that the room was set up auditorium style with rows of seats and a podium upfront on a stage.
Despite these challenges, this session went great. Here's what we did, what went well, and what didn't. Thanks much to Philipp Schmidt who helped brainstorm and facilitate this.
Brief discussion of what we did: I talked for about 10 minutes, introducing the idea of peer learning and P2PU. I told people they'd be getting into groups (or they could work individually if they wanted) to brainstorm tasks for a peer learning group on ___. I gave them some suggested topics:
How can we make our classrooms more student-driven?
How can mobile devices be used for learning?
How can Twitter be used for professional learning?
How can we build a digital curriculum?
…or create your own topic
I said they could brainstorm and/or develop on paper, in a Google Doc (in which I had set up areas for each group in advance), or in P2PU. I asked people to self-group and asked for a volunteer for notetaker from each group. See below for the slides and handout I used.
Then the rest of the time was hands on. At the end of the hour, animated conversation was still going on, and I was told not to interrupt them!
What worked well:
At the beginning of the session, I said "This is going to be a very hands on session. If that isn't your thing, feel free to leave." (Maybe 2 of 45 people left. I don't know what I'd have done if 40+ left.)
Giving prompts for groups was mentioned as something that people liked. Everyone pretty easily grouped around 3 of the 4 topics I suggested. (We dropped one.)
Giving choices both in topic choice, group/individual, and where to brainstorm was well received.
Three people volunteered to be notetakers. Excellent participation!
The Google Doc worked excellently. Here are the results. I don't think anyone used paper or P2PU (which I figured was too ambitious for this purpose). There is something magic about using a shared Google Doc for this kind of thing – it has worked for me f2f and online and even with the most reluctant groups. Best of all, now I have captured their great thinking for further iteration.
What I might do differently next time:
Talk even less at the beginning.
Define additional roles beyond notetaker within each group.
Don't have handouts. The were unnecessary.
Would be nice to have more time to do reports out and possibly some group discussion and iteration.
I got everyone's emails from this session to follow up. I am certain that we will collaborate further on these ideas and that you'll see them in future P2PU School of Ed groups.
Slides I used: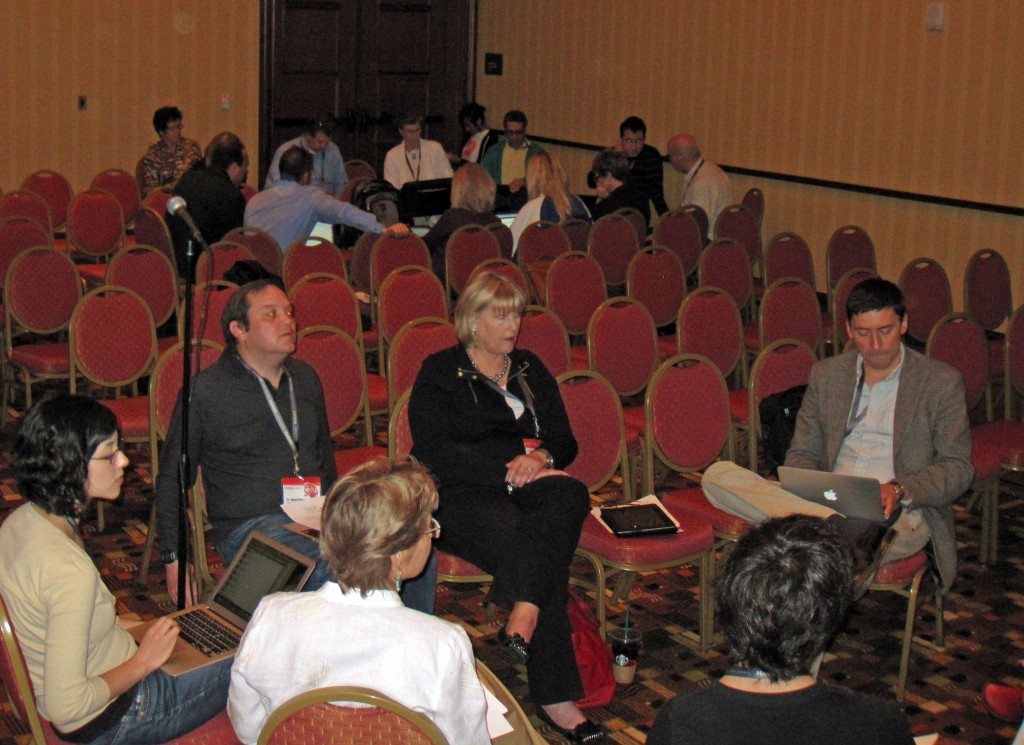 Posted by karen on November 28, 2011 in Uncategorized
Here's an article I wrote for OnCUE, CUE's journal, about building online and blended learning environments using free, open resources.
The article itself is open-licensed so feel free to redistribute if you like.
Posted by karen on October 15, 2011 in Uncategorized
Here are streaming versions of the last two P2PU School of Ed webinars (using BigBlueButton — free, open source webinar software). Great stuff! Stay tuned for more Tuesday webinars on online learning and OER.
Teaching in Blended and Online Classrooms – Oct. 11, 2011
Additional resources:
OER in the K-12 Classroom – Oct. 11, 2011
Additional resources:
Posted by karen on October 14, 2011 in Uncategorized
On Tues., Oct. 18 at 5pm EDT (2pm PDT), we'll be having a webinar to talk about online professional development for teachers – experiments, opportunities, challenges, peer learning and more.
We'll have guests from several large online PD projects, but mostly this webinar will be a conversation among all of us.
The log-in for Tues. is here. Everyone is welcome. Spread the word!
Posted by karen on October 4, 2011 in Uncategorized
On Tues., Oct. 11, 5pm EDT (2pm PDT), we'll be hosting a one-hour webinar to talk about online and blended learning. Anyone is welcome to attend. (Here is the sign-in link.)
Webinar  – Online Learning: What works and what doesn't?
This webinar will include several online course facilitator experts and will give participants a chance to ask questions about what works best in online and blended learning.
This webinar will feature:
Matt Renfroe works as an Instructional Design Manager for Florida Virtual School, the nation's largest public virtual school.  In existence for 15 years, FLVS served over 200,000 half-credit enrollments last year.
DeLaina Tonks is the Director of the award-winning Open High School of Utah. Open High School gathers existing Open Educational Resources, then augments with teacher-created materials aligned to state standards for their entire curriculum, then publicly releases it under a Creative Commons license.
Jason Neiffer is the Curriculum Director of  Montana Digital Academy, where he has led 75 teachers in developing, adapting and delivering over 50 courses to nearly 5500 enrollments from over 175 schools across Big Sky Country.
Posted by karen on March 19, 2011 in Uncategorized
I've been thinking a lot about different structures for adult online learning as the result of a couple projects I'm working on right now, including P2PU. My thoughts are along the lines of increasing participant options in their learning.
There is a fairly universal fall-off or drop-out rate after about 3 weeks in most online classes. One possible solution to this is to create a series of much smaller modules (say, 2-3 weeks long) and a flexible entry schedule. In its extreme, this could result in a structure of a half dozen 2-3 week long modules which could be started whenever by anyone who wanted to participate and completed on whatever schedule works for each learner. The modules could be taken individually or in sequence (or out of sequence for that matter). It's also been suggested to me that in this format, an almost unlimited number of participants could be accommodated.
This kind of structure is being thought about over at P2PU, and I have thought about it for my "Entrepreneurial Marketing" course (with encouragement by some of the participants).
Some challenges for this model include:
A compromise of the instructional design when there are pre-requisites or content is best covered in a certain sequence
Lack of participant motivation to finish even a 2-3 week long module if there is no "finish" date
The facilitator role
I am thinking right now in particular about #3. In most online courses, a strong facilitator role in guiding and encouraging learning is a given. At P2PU, this seems less so, perhaps both because of the peer focus and because of the fact that all the facilitators are volunteers.
In my own P2PU course, I originally worried that I might take too strong of a facilitation role because of my own experience as a more traditional teacher. However, having been through the course now and listening to other facilitators and participants discuss P2PU and various classes, I think that a strong facilitator that provides solid guidance and a strong presence throughout the course is important. They don't necessarily have to "teach" but rather act as a coach and mentor.
With a series of modules that have a rolling cast of participants though, I think this would be almost impossible. Relationships would be very difficult to form.
And as a facilitator, you'd virtually have to monitor the progress of each participant in each module individually. (In my course, this would be something like 6 modules x 3 weeks each x 40+ participants….probably a lot more with a rolling enrollment.) I'm not sure this would be feasible with a paid teaching job; it is unthinkable as a volunteer (unless of course you have a whole lot of time on your hands and don't need to earn a living — neither of which apply to me :).
Which then takes you to the place of stepping back as a facilitator…making it more of a "virtual book club" as P2PU suggests, with participants hopefully self-forming into groups and some taking on a facilitator role independently.
While that sounds appealing, my own experience in trying to foster this kind of self-managing learning group atmosphere has not been successful. You end up with a few highly self-motivated and well-organized people learning a lot, but frankly those people could have organized their own learning from a variety of sources; they don't need a P2PU course.
I'd be interested to know if others have experience in how this can work.
Otherwise, I'm thinking about some kind of hybrid….perhaps modular, but with a limited cadre size, fixed start and end dates for each module, and a continuing facilitator role. Still thinking though….
Posted by karen on February 23, 2011 in Uncategorized
As a part of my working with P2PU, I have thought a lot about the peer aspect of learning and how to facilitate peer learning. Having been a more traditional "teacher" for many years, it requires some restraint on my part not to "teach," but instead to be a peer learner (and sometimes teacher) with the others.
One thing I didn't anticipate is that some of the participants in the course expect more traditional "teaching." I've had conversations with several who have said that they value the expertise of the teacher and expected that in this course. I have been unsure of how to respond other than to try to reinforce the values of peer learning in this environment.
I need to come up with more ideas to foster peer learning. Our course participants have a wealth of experiences that I'd like to tap into more effectively. One thought is to ask participants to volunteer to lead a chat on a specific topic.
I've also had a couple suggestions to try some kind of team assignments. I think this could help the peer learning process, but I need more guidance on what this would look like. Because this course is very focused on marketing for each participant's own business or enterprise, I have a hard time conceptualizing how this would work. (Also, frankly, the experiences I've had with team projects, from elementary to grad school, have mostly resulted in one person doing the work.)
I've also talked about the self-paced course idea with several people and have had varying responses. Basically, they fall into two camps: those who think it's a great idea and those who are concerned that if there is no schedule, participants will lose motivation and structure and few will actually finish as a result. (I worry about this.)
One participant wrote to me this week (just past mid-way in the course) to ask if we could start the whole class over! I know that this was meant as a constructive suggestion and as a positive expression of dedication to the course, but it was also a little discouraging to me personally.
Another person suggested that the course be run on several tracks — one faster and one slower.
With both of these suggestions and a self-paced course in general, a big question I have is what role does the facilitator play in such a class. Any variety of these would seem to involve more work for the facilitator (and frankly as a volunteer gig, I am close to maxed out on how much time I have to spend on it as is. I am hoping that for future iterations of the course that others might offer to facilitate different "forks.")
I suppose another option is to focus the facilitation on setting up the course and kicking it off, then spending little or no time ushering folks through their many and varied learning courses. I'm not sure that would be very successful though. I've participated in online courses where the facilitators greatly diminished their presence as the course progressed, and it wasn't a very satisfying experience. But maybe that's just the "teacher" in me needing to be involved. :)