deeper learning
Posted by karen on November 3, 2012 in Uncategorized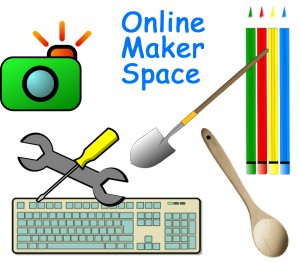 I've been toying with the idea of an online maker space for a while. Now, thanks to a Shuttleworth Foundation Flash Grant, I am going to be able to dedicate some time to this.
I'm looking for a few schools who would be interested in committing to participate in this. Participants will be able to help shape how this proceeds, and the requirements are few. Specifically, I'm looking for:
A group of students (13 or over to simplify the online participation aspect) who want to participate
At least one adult coordinator at each site who will also participate
A willingness on everyone's part to create and share their creations with others (what we create will vary; see below)
This could be done as a part of a formal class or it could be done as an optional extracurricular type activity.
Initially, I am thinking of this as a 8 week or so "unit" but it could certainly expand or contract to suit your situation.
What will we make? Folks who opt to participate will have a lot of input on this, but here are some options to consider:
Short digital stories (photos, writings, drawings, audio pieces, videos) ala the DS106 Daily Create
Apps and/or digital environments (possibly using Scratch, Minecraft, etc.)
Food*
Agricultural projects*
Materials projects* (could include artwork, woodworking, fabrics, cardboard, rocketry, inventions, etc.)
Other ideas you bring
* Any material costs will need to be covered by the local site.
We will most likely select a few of these to focus on initially, but each participant will also have ample choices for what they want to work on.
What are the goals of this project? To encourage learning through the lenses of making/hacking/playing. To learn from each other. To be creative. To build a sense of agency. To have fun. To think about next steps for how this might be expanded.
I am open to any and all suggestions regarding this. Please post a comment here or email me at karen at k12opened dot com with ideas and/or inquiries of interest in participate.

Posted by karen on September 11, 2012 in Uncategorized

Paul Allison through the NYC Writing Project's Youth Voices project has structured a learning game around a series of challenges for ELA, history/social studies, arts and media, and science. These challenges are tied to Common Core standards and competencies including Citing Evidence in Conversations, Independent Reading, Text-Dependent Research, Formulating Arguments in Areas of Interest, and Self-Directed Learning.
Here is the main site for this project.
This project includes a series of 15 challenges within each of the 4 subject areas listed above and are associated with 60 badges on P2PU. These challenges are designed for middle school and high school students and can be used as a full curriculum or in a variety of other ways that might fit your own learning goals. As with all open resources, these materials are intended to be adapted and remixed for your own use as well.
More information about the YouthVoices project is available on the site, as well as through this webinar.

Kudos to Paul, his students, and everyone else involved on this innovative new vision for a learner-directed curriculum.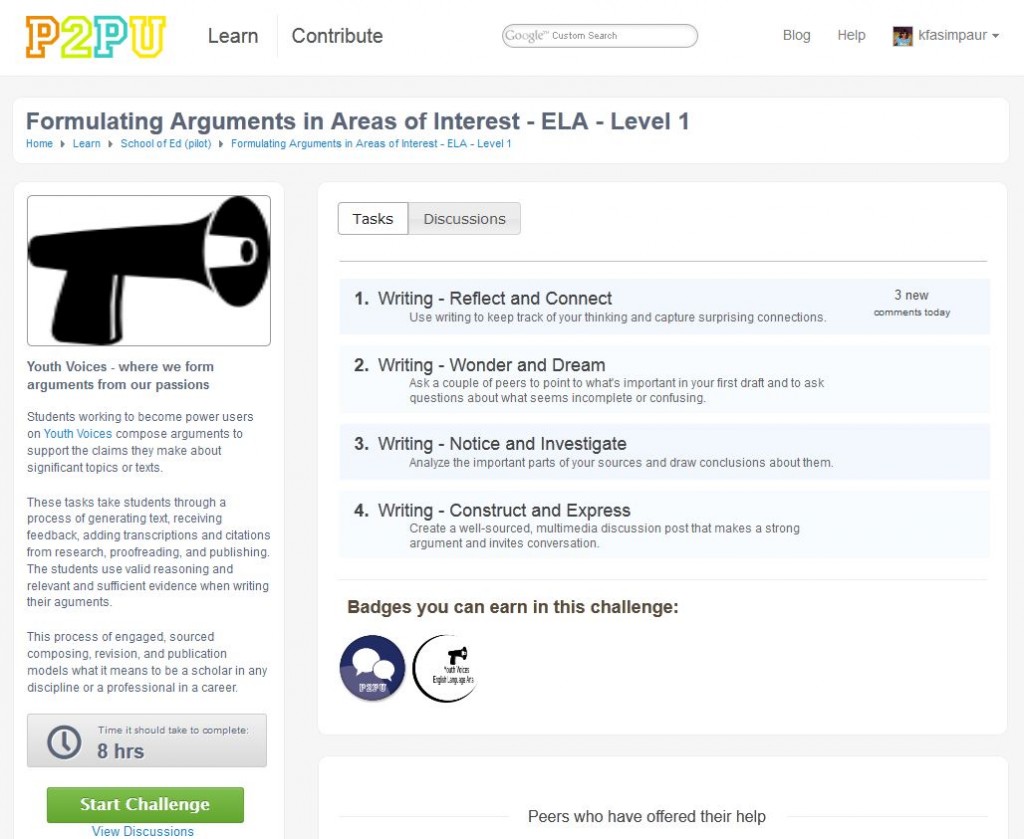 Posted by karen on September 12, 2011 in Uncategorized
(This is a part of a series on the differences and similarities between formal and informal adult learning.)
As far as I know, no P2PU course has a grading policy. To my mind, it would be somewhat antithetical to give participants grades. It flies in the face of self-directed learning to have an external judge make the decision on whether a participant has met the goals (and which goals? the course goals? the participant goals?).
If participants didn't need externally-validated credits (e.g. teachers and CEUs), we'd probably never even have this discussion.
On the other hand, I understand that official credit cannot be given absent a determination of whether each participant has earned it.
What then could/should be used to assess student participation and learning? Here are some ideas.
Learner participation in discussions, collaborative projects, etc.

time
number of posts
depth of participation

Contributions to peer learning
Accomplishment of course goals

as set by participants?
as assessed by participants?
as assessed by peers?
as assessed by facilitators?
as assessed by outside assessors?

Completion of traditional assessment tasks, such as written papers, presentations, tests, etc.

as assessed by participants?
as assessed by facilitators?
as assessed by outside assessors?
Only authentic assessments that reflect the achievement of course and participant goals seem useful to me. The challenge, I suppose, is coming up with assessments that meet both informal and formal requirements.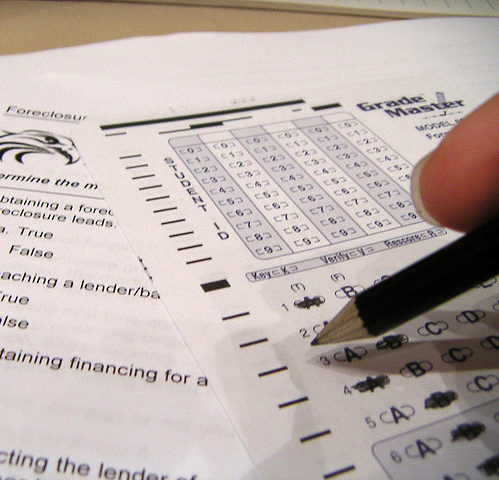 A popular suggestion is to use objective ("one right answer") multiple choice questions to determine if participants have mastered course goals. These kinds of assessments have the advantage of being machine scoreable.
However, it is challenging if not impossible to create these types of questions to assess deeper learning.
How do you write multiple choice questions to assess these kind of learning objectives?
"Define what it means to learn deeply via web 2.0/social media."
"Have a deeper understanding of what the Common Core State Standards say about writing to learn and writing in the disciplines."
"Explain pros and cons of different methods of engagement within different frameworks."
This is a tough one. Maybe my imagination or knowledge of psychometrics is too small.
Perhaps a bigger concern is eating our own dog food. If we are trying to reinforce deeper learning and authentic assessment, we must model those practices ourselves.
I think the obsession with these kinds of tests (and especially the ones in place in K-12 that test absurdly isolated factual knowledge) is the root of a lot of problems in education. How then can we ask the teachers we are hoping will step out of this model to take a multiple choice assessment themselves?
(After I wrote this, I read this article: Professors Cede Grading Power to Outsiders. Wow — so much to say about this. Think I'll leave it for a future post though.)
Posted by karen on August 17, 2011 in Uncategorized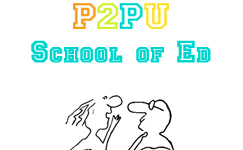 The P2PU School of Ed (pilot) — formerly, briefly known as PD on P2PU — is now up!
This school is about hands-on learning driven by each educator's particular needs and classroom situations. It's about connecting, collaborating, and creating, not just reading or studying.
Course descriptions are available for all seven courses:
We'll be opening for registration soon (before the end of the month) so stay tuned!
Posted by karen on June 14, 2011 in Uncategorized

A little over a year ago, I had an idea to create pre-packaged sets of open-licensed photos, diagrams, maps, audio, video, etc., organized around themes that could be used by teachers or students in word-processed documents or presentations or used to create web sites or other multimedia presentations.
Now we have some new media sets available. Here's the whole list:
Social studies
Science
Language Arts
For each media element in the set, just right-click the file to find the credit, license, and source link.
There are also some generic, open-licensed music selections available here.
If you have ideas for new media sets or if there are items you'd like to see added to the above sets, let us know!
And even better, if you are interested in creating your own media sets to share with your teachers and others, here are some notes on how we did this. If you upload your work to Curriki and tag with a keyword of mediaset, we'll all be able to find them easily.
Posted by karen on May 13, 2011 in Uncategorized
It is an interesting time in education. There is near unanimity that the current focus of learning in K-12, with instruction largely being driven by assessments that do not reflect meaningful learning goals, is not productive. We are teaching to ridiculous bubble tests and failing our students in doing so.
Many ed reform movements have come out of this environment, and unfortunately most of them seem rooted in negative sentiments. Blame the teachers. Blame the administration. Blame the parents. The list goes on.
One reform movement that is based on a positive premise is deeper learning.
At its root, I see deeper learning as a reaction against the current emphasis on a volume of factual content taught largely through memorization and rote processes. The current approach results in students who can perhaps recite some facts for a short period of time and might be able to solve problems through practiced algorithms applied to contrived problems, but who do not have a real understanding of the content and cannot readily apply it to real life situations.
Deeper learning seeks to rectify this through a focus on critical thinking, problem solving, collaboration, communication, and self-directed learning.
The question is where content fits into this picture of deeper learning. The Hewlett Foundation includes in their description of deeper learning that students should be prepared to "master core academic content."
Should core content mastery be a component of deeper learning? I would argue that it should not.
While some content knowledge is certainly an essential component of anyone's idea of an educated person, the amount of detailed content included in most standards (yes, even the Common Core) is absurd. Is it essential for students to know how to derive the equation of a parabola given a focus and directrix or to know what Lincoln's Second Inaugural Address says? Maybe or maybe not.
What is essential is that students know how to find, evaluate, and use information effectively. It is also critical that they find joy in learning, have success in their learning, and become self-directed learners. And that should be the focus of deeper learning.
Be clear that I am not arguing that content standards have no place in education – instead I am making the suggestion that mastery of core academic content not be included in the definition of deeper learning.
The reasons for this are many:
The debate over core content (how much, which, etc.) is not germane to advocating for deeper learning. In fact, it may be in opposition to it.
Deeper learning at its heart should oppose a content-mastery-focused approach.
Every child may not find it feasible to master all academic content, but all children can successfully engage in deeper learning.
Teachers can only do so much in the day. To include everything that can be imagined is not fair. Starting with something that most schools have been unable to achieve to date and then adding other allegedly "more important" things seems like a mixed message.
My suggestion is that content standards (or at least mastery of some unknown sum of content) be left out of the discussion of deeper learning. There are plenty of other folks worrying about that anyway.
Posted by karen on May 8, 2011 in Uncategorized
I've been thinking about deeper learning. (If you aren't familiar with this terminology, deeper learning is a new term for a different approach to education, recently made the focus of the Hewlett Foundation's education group.)
To me, deeper learning is not just about content or skills like critical thinking — it's really about creating immersive learning experiences that students enjoy. Whether it's being consumed in a good book or being absorbed in a science fair project, we've all had experiences that seem to cause events around us to stop moving as we take up some quest. That is deeper learning.
Deeper learning is, in part, deep engagement in a learning process that brings internal satisfaction.
What leads to this kind of experience? It's different for each one of us (hence the need for differentiation). For some, a certain subject area inspires passion. For others, methodologies like project based learning spur it. Some become intensely engaged in arts or to sports. Finding that thing that ignites passion in individual learners is the quest of every good teacher. Ultimately, in life, it is our quest as humans.
Too many though, never find this passion. If we can achieve helping each student find some joy in learning, it will help them to know they can be successful in other pursuits and in life in general. And that, ultimately, is the goal of deeper learning.