assessment
Posted by karen on September 14, 2011 in Uncategorized
(This is a part of a series on the differences and similarities between formal and informal adult learning.)
This is a guest post from Erin Knight, who works with Mozilla and P2PU on assessment in open peer learning environments.
Let's face it – learning looks very different today than traditionally imagined. Its not just 'seat time' within schools, but extends across multiple contexts, experiences and interactions. It is no longer just an isolated or individual concept, but is inclusive, social, informal, participatory, creative and lifelong. People are learning new skills like digital literacies and 21st Century Skills, as well as learning through new pathways and channels such as through open education opportunities from providers like P2PU, through freely accessible information repositories like Wikipedia and many other destinations on the Web, and through each other on social media and other collaborative tools. Much of this learning involves critical job-relevant competencies that include the obvious hard skills and professional development, but even further, and perhaps more importantly, social skills like collaboration, teamwork and critical thinking.
And yet, much of this learning does not 'count.' Institutions still decide what types of learning if officially recognized, with little room for innovation, as well as who gets to have access to that learning. Their end products, the grade or degree, are the only way that learning is currently communicated and recognized within the system, as well as the larger society. Without a way to capture, promote and transfer all of the learning that can occur (and is occurring) across the wider spectrum, we are discouraging self-driven engaged learning, making critical skills unattractive or inaccessible, isolating or ignoring quality efforts and interactions and ultimately, holding learners back from reaching their potential.
This is where we feel badges can come in. Badges are digital emblems or symbols of skills, achievements, interests or affiliations. Badges can be aligned with assessments, like those mentioned in the last post, to provide meaningful evidence of learning that can be carried with a learner to demonstrate their skills. Badges can support innovation in assessment and be awarded for a much deeper and wider set of skills and achievements, including the often neglected social skills like collaboration and teamwork, and thus one's collection of badges can tell a much more comprehensive story to potential employers, formal institutions and peer communities.
Specifically, badges can support:
Capturing and demonstrating the learning path
Signaling achievement and ability to key stakeholders like recruiters or peers
Motivating learning and participation
Adapting to and supporting innovation in learning and assessment
Formalizing and extending reputation and identity development
Fostering community and kinship
I am involved in a number of initiatives to explore the potential for badges, including developing a badge and assessment program for P2PU, specifically in their School of Webcraft which is a partnership with Mozilla. This badge program will offer credentials for web developer training and will ultimately provide pathways for learners to not only find additional opportunities for learning and skill development, but to find jobs and get real results. In addition to working with P2PU, as well as a number of other badge issuers, we at Mozilla are also building the Open Badge Infrastructure which will support a badge ECOsystem, in which there are many badge issuers, and any given learner can earn badges across experiences, collect them to a single collection and then share them out with various websites and stakeholders. The OBI provides the plumbing to extend the value of each learning experience and each badge.
Again, the ultimate goal of all of all of this exploration and momentum around badges is to support learning as it occurs all across the Web, keep each learner in control of her own learning and credentials, and allow people to share that learning and evidence of skills and experiences with anyone, thus adding flexibility and value to the system and supporting personalized learning paths.
For more information on our work with badges, visit http://openbadges.org. Also, read more at http://bit.ly/badgepaper4 and http://erinknight.com
Posted by karen on September 12, 2011 in Uncategorized
(This is a part of a series on the differences and similarities between formal and informal adult learning.)
As far as I know, no P2PU course has a grading policy. To my mind, it would be somewhat antithetical to give participants grades. It flies in the face of self-directed learning to have an external judge make the decision on whether a participant has met the goals (and which goals? the course goals? the participant goals?).
If participants didn't need externally-validated credits (e.g. teachers and CEUs), we'd probably never even have this discussion.
On the other hand, I understand that official credit cannot be given absent a determination of whether each participant has earned it.
What then could/should be used to assess student participation and learning? Here are some ideas.
Learner participation in discussions, collaborative projects, etc.

time
number of posts
depth of participation

Contributions to peer learning
Accomplishment of course goals

as set by participants?
as assessed by participants?
as assessed by peers?
as assessed by facilitators?
as assessed by outside assessors?

Completion of traditional assessment tasks, such as written papers, presentations, tests, etc.

as assessed by participants?
as assessed by facilitators?
as assessed by outside assessors?
Only authentic assessments that reflect the achievement of course and participant goals seem useful to me. The challenge, I suppose, is coming up with assessments that meet both informal and formal requirements.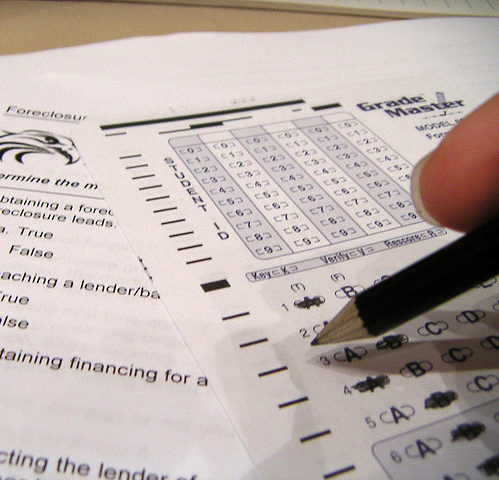 A popular suggestion is to use objective ("one right answer") multiple choice questions to determine if participants have mastered course goals. These kinds of assessments have the advantage of being machine scoreable.
However, it is challenging if not impossible to create these types of questions to assess deeper learning.
How do you write multiple choice questions to assess these kind of learning objectives?
"Define what it means to learn deeply via web 2.0/social media."
"Have a deeper understanding of what the Common Core State Standards say about writing to learn and writing in the disciplines."
"Explain pros and cons of different methods of engagement within different frameworks."
This is a tough one. Maybe my imagination or knowledge of psychometrics is too small.
Perhaps a bigger concern is eating our own dog food. If we are trying to reinforce deeper learning and authentic assessment, we must model those practices ourselves.
I think the obsession with these kinds of tests (and especially the ones in place in K-12 that test absurdly isolated factual knowledge) is the root of a lot of problems in education. How then can we ask the teachers we are hoping will step out of this model to take a multiple choice assessment themselves?
(After I wrote this, I read this article: Professors Cede Grading Power to Outsiders. Wow — so much to say about this. Think I'll leave it for a future post though.)